With hundreds of successful building projects under our belt, A.C.E. Building Service brings together local construction knowledge with a world-class metal building solutions company.
Our commitment is to provide every customer with an exceptional experience for their construction project, which is why A.C.E. Building Service is your local Butler Builder. We are proud to deliver Butler's innovative pre-engineered metal buildings that are reliable and cost effective.
Our services include:
Butler building design consultation
Preconstruction services, including feasibility studies and preliminary design
Project Budgets
Design-build services, from concept to completion
Construction management, project oversight and coordination of your project
Comprehensive repair and maintenance services
Together, A.C.E. Building Service and Butler Manufacturing provide expert construction solutions.
Partnering With Butler Manufacturing
Why does A.C.E. Building Service partner with Butler Manufacturing? The style, versatility, and affordability of Butler buildings make them the logical choice for a variety of private, commercial, and industrial facilities.
Butler has more than 100 years of experience and is the world's leading producer of pre-engineered building system solutions. Ideal for religious, manufacturing, warehousing, athletic, office and municipal facilities, Butler building and roof systems offer superior performance, aesthetically pleasing design options, and proven sustainability attributes.
The benefits of using a Butler building system are numerous and so are the advantages of working with A.C.E. Building Service as your turnkey provider of building construction.
Butler and A.C.E. Work Together for Superior Metal Building Solutions

A.C.E. has been a dedicated Butler Builder since 1973. Not many builders across the U.S. can boast a long-standing relationship with Butler, but there's strong rationale for A.C.E.'s long-term commitment.
We believe a Butler building is the best pre-engineered building on the market, from top to bottom. With the industry-leading MR-24Ⓡ standing seam roof, pre-punched structurals, and the all-around product and design, Butler's pre-engineered metal building solutions are the clear choice for us and it should be the clear choice for anyone with a building project.
Below, you will find a few ways that the competent team at A.C.E. Building Service utilizes the benefits of their partnership with Butler Manufacturing to provide their customers with top-notch construction services.
1. Increased Communication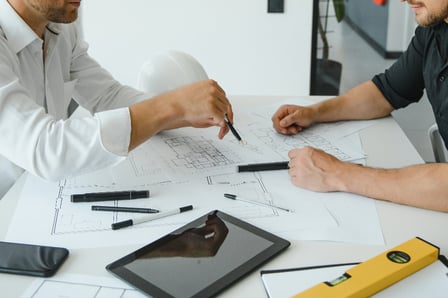 "Time is money." "Information is key." Besides the fact that these cliche phrases are overused, they're true. As your design-build contractor, we want to provide you with details, facts, and figures as soon as possible.
When our clients give us specifications for their project such as building dimensions, clear height requirements, door locations, and other building factors, we input that information directly into Butler's proprietary pricing software program. In some cases, we are able to provide material pricing for the metal building structure along with three-dimensional images in less time than it takes to have a pizza delivered!
In certain project scenarios, particularly those that demand preliminary engineering assessments, before a formal quote is prepared, it's still only a couple of days until we can determine the cost of materials for the steel structure. When our estimating process and our preconstruction technology is combined with Butler Manufacturing's communication tools, we can turn a simple building quote around extremely fast.
The design-build project delivery method allows for improved communication and faster, more efficient project delivery timelines. Read our blog to learn more about the benefits of design-build construction.
2. Reliable Metal Building Materials
We have a motto at A.C.E. Building Service: In Butler We Trust.
We've seen other pre-engineered building products. We've repaired a great number of other building manufacturers' roofs and we've seen their building materials up close and personal when performing roof inspections or assessing a building for an expansion.
Trust us, there is no comparison to Butler's state-of-the-art, innovative metal building solutions. Our goal when working with you on your project is for you to have the same confidence in us and our Butler products as we do.
Don't take our word for it, read what Charles Stecker, President of Mechanical Research & Design, Inc. in Manitowoc, has to say about A.C.E.'s promise to provide not only dependable materials but service as well.
"I have done business with A.C.E. Building Service for over 30 years, and have worked with Chris and his team through multiple projects. I was president/owner of Stecker Machine Co., Inc. for over 20 years and now, president/owner of Mechanical Research & Design, Inc. for over 20 years. I trust them with my wallet. The number of problems we had with all of the projects over the years was very minor, but when we did have something that needed attention, it was a phone call, and that was it, the issue was taken care of. I trust A.C.E. to do a good job, and you can too!"

- Charles Stecker, President

Mechanical Research & Design, Inc., Manitowoc, WI
Here at A.C.E., we have an extreme level of confidence in the product and product design that Butler provides. Because of this, we can assure our customers our excellent service is matched with quality building materials.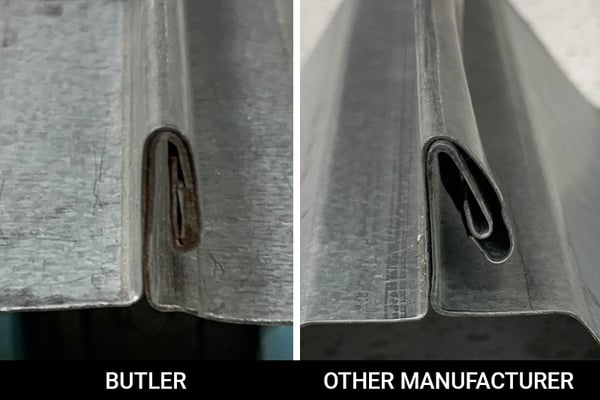 Ask any one of our skilled field workers if they believe that Butler is the best, and every one of them will tell you, "Yes."
They look at it from a craftsmanship standpoint and will tell you Butler details and parts are superior to the rest when it comes to how they're built, how they're designed, and how they go together. They have walked on the roofs of other buildings to retrofit a reroof and have added expansions to other buildings. Our workers have seen the other side and there is no comparison to Butler's pre-engineered metal building systems.
Learn more about Butler's MR-24® Metal Re-Roof System and our re-roof services here!
3. Expertise for Building Projects
At A.C.E. Building Service, we have a team of seasoned estimators, project managers, foremen, and tradespeople, with some boasting over 35 years of experience.
We'd like to say we have seen it all! However, if unique situations arise in special projects, we have access to Butler experts by simply picking up the phone and giving them a call. The specialists at Butler are always ready to roll up their sleeves and help us solve our customer's problems.
For example, say we have a very uncommon re-roof challenge to overcome. We can call Paul Buettell, National Roof Sales Manager of Butler Manufacturing, send him pictures and say, "What do you think about this? Can we use this here? Can we do that there?" With his wealth of roofing retrofit project knowledge from decades of experience, he will help us find the perfect Butler solution given its timeline, budget, and critical project needs.
We consult with Butler Manufacturing when necessary to assure we have every angle covered and every question from our customers will have the perfect answer. At A.C.E., our goal is to help our customers with our services and if that means flying in a Butler expert to be a helpful resource, we have done and will do just that.
4. Better Manufacturing
If you've seen one pre-engineered metal building, you've seen them all. Right?
Well for the vast majority of them, that's true. Most metal building companies buy the same roof and metal wall panels from the same place - then they put their name on it and sell it to construction companies.
Butler is different. They're different in so many ways but unfortunately, it's not something that's super engaging to talk about. But we're going to talk about it anyway because it's exciting for us and we think you should be excited too!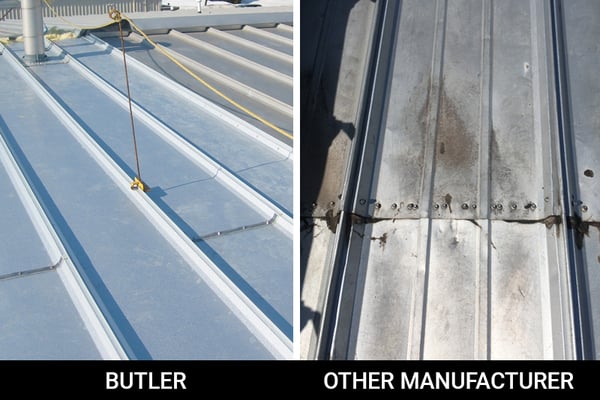 If you are making a huge investment into equipment, machinery, and the people you put inside of your facility, wouldn't you want to put the very best envelope around it?
It's hard to justify settling for any old roof when you could have the best metal roof system on the market. The way that Butler manufactures its products and the thought that goes behind them add up to better quality and durability. Butler's building systems are engineered to exact specifications for higher-quality installation and better building performance.
From the MR-24 Roof System's factory-punched panels to ensure proper alignment to its 360° Pittsburgh double-lock seam for complete weather tightness, Butler's building components are designed to stand the test of time. You can truly see the detailed thought and intelligence, paired with over a century of experience, that goes into every component of Butler's metal building systems.
Get to know the MR-24Ⓡ Metal Roof System and learn how different it is from all the other metal roof systems. Click here to learn more.
5. Breadth of Services
At A.C.E. Building Service, we can work with Butler in a lot of ways based on the diversified products the company offers. For example, Butler has a heavy structures division, so facilities like heavy foundries, Naval yards, and aircraft hangars are possible for A.C.E. to build because we have the resources and the expertise from Butler to design and engineer these massive buildings.
Along with the re-roof division and the heavy structures division, Butler also has a conventional steel division. Butler and A.C.E. are committed to accommodate your project within a pre-engineered metal building system, but on unique occasions, conventional steel construction can be an optimum choice. No matter the application, A.C.E. and Butler have a solution.
We're also proud to offer our customers specialty repair and maintenance services. You may ask, "Is there a building maintenance project too small?" Not for A.C.E. Building Service. Our team of experts can repair, maintain, or upgrade any part of your metal building, from doors and locks to concrete patching, trench drains, loading docks, in-plant offices and build-outs, and specialty items like concrete equipment foundations and complete re-roofing projects. Whatever our customers can throw at us, we've got a solution!

Delivering the Best Construction Services
A.C.E. Building Service offers commercial and industrial construction services to owners and facility managers in Northeast Wisconsin and the Lakeshore counties of Manitowoc and Sheboygan. Our reputation is our foundation. A reputation that started in Wisconsin in 1963 and has continued to flourish throughout the years.

Our customers will attest to the fact that our ability to listen carefully to their needs has kept them coming back to A.C.E. as their preferred general contractor. Integrity, trust, fairness, honesty, reliability, responsiveness, and respect—these are the qualities to which we remain true.
Proud to Be Your Butler Builder
We are proud to be your local Butler Builder, representing the world's leading producer of pre-engineered metal building solutions. The benefits of Butler metal building systems are endless, ranging from unmatched durability to customizable, cost-effective designs that cater to your specific needs.

Interested in learning more about our comprehensive construction services or our partnership with Butler Manufacturing? Call us today or complete the project consultation form! We look forward to hearing from you!