A.C.E. Building Service has been constructing pre-engineered metal buildings and roof systems for over 60 years and has been a proud Butler Builder for 50 of those years.
As president of A.C.E. Building Service, I've worked with Butler Manufacturing for over 17 years. I consider myself an expert in pre-engineered metal building solutions, and I know what makes a pre-engineered metal roof system stand out among its competitors.
I've seen numerous metal roof systems, profiles, and fastening methods. I've witnessed the effects of expansion and contraction, time and wear, and the effect of extreme weather that has given its fair share of influence on these metal roof systems. And one thing has become abundantly clear; all commercial metal roofs are not created equal.
Below, I dive into five reasons why Butler's MR-24 metal roof system is superior to other metal roofs on the market. Keep reading to learn more!
Why the MR-24® Metal Roof System is Worth the Investment
If you're in the market for a reliable commercial metal roof system, you may notice every building company offering the same features, including a 24 gauge, galvanized finish standing seam roof. So to make your decision, you may be considering one thing: The price, of course!
This might be the quick and easy way to choose between companies A, B, and C, but your metal roof is an investment, and remember, the lowest price does not necessarily mean the best value or quality.
If installed correctly and with the correct details, metal roofs have a life expectancy of 40 to 50 years – well, at least the Butler pre-engineered MR-24 metal roof does.
Bold claim? Well, we have proof.
In 1974, Gerald Ford was president of the United States, Hank Aaron surpassed Babe Ruth as the all-time MLB home run leader, and a gallon of gas would set you back $0.39. It was also the year that A.C.E. installed our first, of hundreds, MR-24 metal roof. Fast forward 49 years later, and these same roofs are still holding strong.
What makes the Butler MR-24 roof hold up so well and last decades longer than other metal roof systems? Here are five key reasons:
Factory punching
Roof clip design
Integrated gable trim
Superior details
Care of installation
Let's take a closer look into each reason by comparing images of Butler's MR-24 metal roof against a competitor, so you can see the detail and quality differences (much like a police line-up).
1) Factory Punching
Wait, what does factory punching have to do with metal roof longevity?
Metal, when exposed to extreme heat and cold, expands and contracts. When a 10,000 square-foot metal roof surface expands and contracts under different stresses and in different directions, it oil-cans, wrinkles, wears down, and opens up, creating potential leak spots.
To prevent this, Butler uses a factory punching method so that every roof clip is installed exactly 24" on center, making every metal panel perfectly aligned. This means that every roof seam is exactly 24" on center from the eave (the edge of the roof that overhangs the face of a wall) to the ridge (the peak where two opposing roof planes meet). This also means that the same 10,000 square foot roof moves as one monolithic roof surface, hence the name "MR-24".
How does this feature compare to other metal roof systems? The proof is in the pudding – see below. By the way, the other guy tried to be perfectly aligned by "field measuring." Have you ever tried field measuring 10,000 square feet 24 inches at a time? I don't recommend it.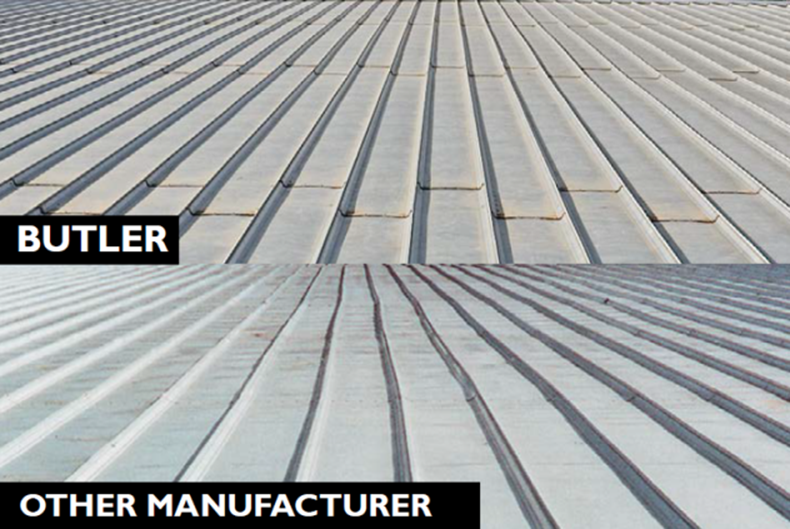 Reduce your building costs and timeline without sacrificing quality by choosing A.C.E. Building Service in partnership with Butler Manufacturing. Download our Competitor Comparison Analysis Sheet, today, to see the difference for yourself. Get your free download.
2) Roof Clip Design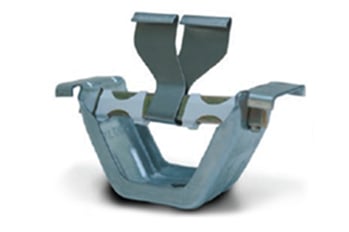 What the heck is a roof clip? Pretty simple, actually.
Roof clips secure the metal roof panel to the structural framing of the building. The kicker is that these clips must be perfectly aligned and able to move freely to accommodate the expansion and contraction that metal roofs experience.
What is one factor that makes Butler's roof clip system better? Look above - pre punching.
Two other factors also contribute to the superior design of Butler's innovative roof clip:
The triangular zinc-plated bar and stainless steel tab slide effortlessly without binding.
The tap is perfectly centered during installation by two plastic tabs, allowing for a full range of motion without binding.
Because of the unique clip design, the Butler MR-24 system can be installed up to 250' wide for single slope applications or 500' wide for double slope applications without having a step in the roof.


The other guy's clips are field-located and installed with self-drilling screws. That means the other guy has to rely on field installation procedures - a.k.a. field measuring - to ensure the metal roof expands as it should. Not ideal - as you can imagine.
3) Integrated Gable Trim
Now let's cover the "integrated" gable trim.
Take a look. Which one would you want on your roof? The one on the left, or the one on the right?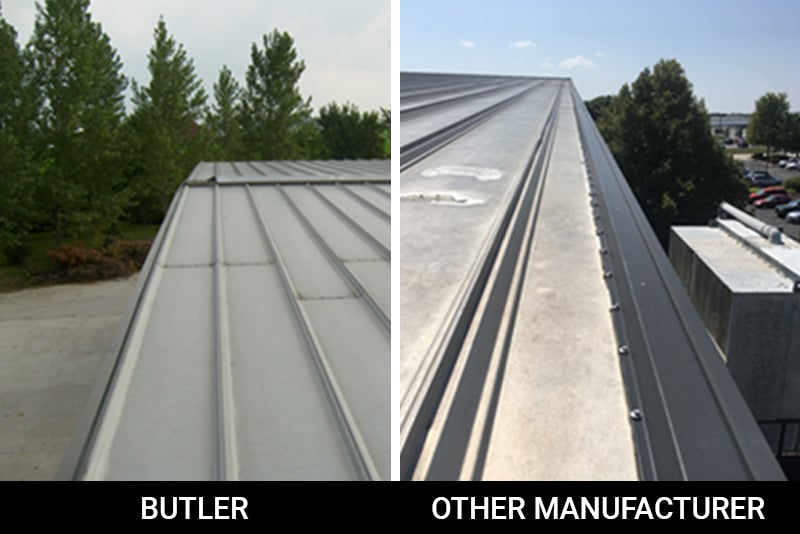 The choice is clear! The difference is the integrated gable trim. Butler's gable trim is seamed into the metal roof system, not screwed into the roof panel.
Let's go back to that 10,000-square-foot building again. Say the dimensions are 100'x100'; this would have a gable trim condition of 200 lineal feet. The other guy's metal roof requires a self-drilling screw every 6" to 4" on center or 400 to 600 fasteners in total for his gable trim condition. Butler only has (2) exposed fasteners every 20' where trim sections splice together or 20 fasteners in total for the gable trim condition, meaning far less opportunity for leaks.
Want even more reasons why the Butler MR-24 metal roof system is superior to others on the market? Read this blog!
4) Superior Details
The unsung heroes of the Butler MR-24 metal roof system are the little guys. The ones who are not seen but make the MR-24 roof weather-tight and long-lasting, making it stand out as the best possible metal roof investment. We're talking about the 360 Pittsburgh double-lock seam, the hard plastic panel closures, the staggered panel splice, and the gutter support straps.
The other guy snaps or crimps panels together, has foam panel closures, square panel splices, and flimsy gutter support hangers.
See below — Which ones would you want protecting your customer's inventory, your $250,000 CNC machine, your server room, your sanctuary, or your finished office space?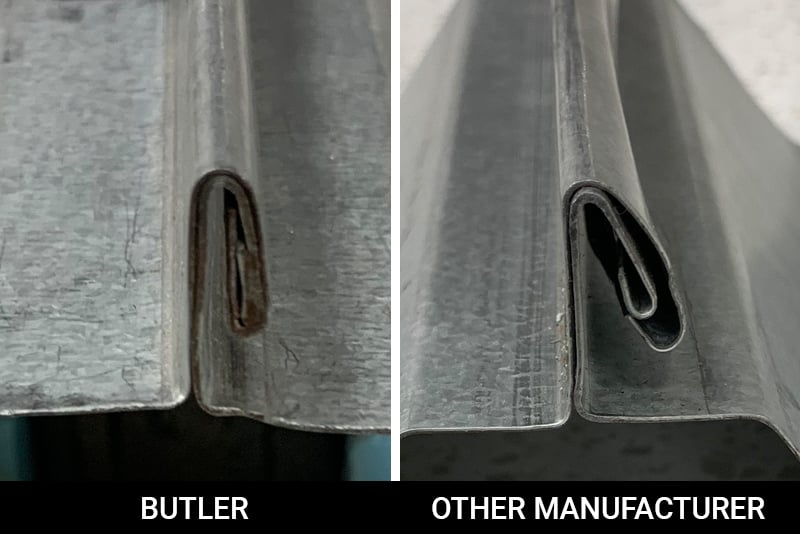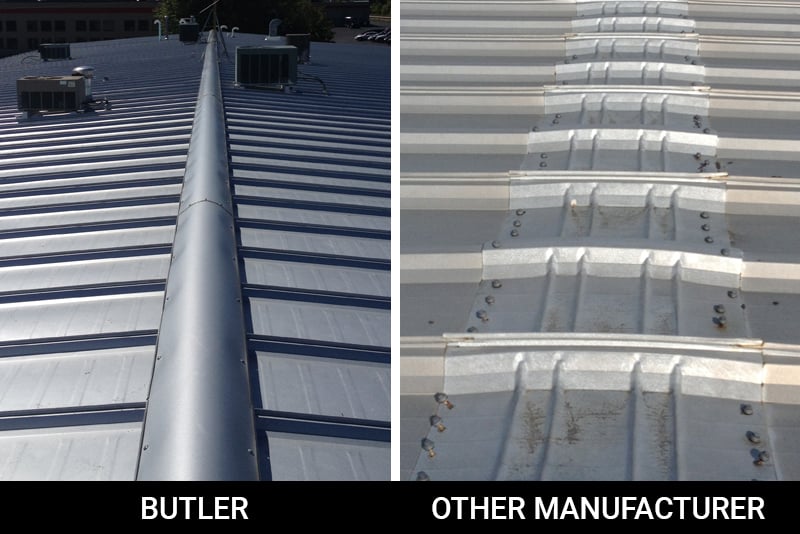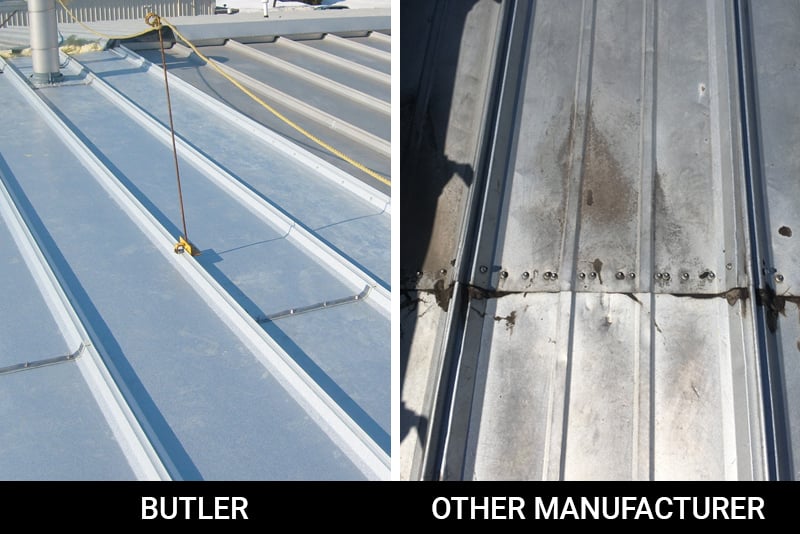 Download our Re-Roofing Checklist to see how the 'other guys' in the market simply can't compare to Butler's innovative roof systems and installation approach.
5) Care of Installation
All of the wonderful benefits and design characteristics of a metal roofing system amount to nothing without our knowledgeable, pride-driven crew members. A.C.E. Building Service never has and never will allow anyone other than our employees to install our Butler metal roofs.
We also insist upon installing any roof penetration, mechanical curb, or flashing in our metal roofs. Because of this, we are confident in offering our clients our perpetual promise: If we goof on something (hey, it happens sometimes – nobody's perfect!), we'll be there to fix it.
Solid design, controlled installation, and decades of weather-tight assurance. What commercial building contractor do you want on your roof? With Butler's help, A.C.E. Building Service will knock it out of the park!
H2: I Know I Said 5 Reasons….But There's One More!
We can install the Butler MR-24 metal roof over the top of your old, leaky, problematic roof and give your building a new lease on life.
In 1985, Butler recognized that their standing seam metal roof was a rock star and thought, "I bet this would be a good retrofit solution too." So they introduced a retrofit system. That's right, a system, not components to piece together in the field.
The Butler MR-24 low profile metal over metal, high profile metal over metal, and slope build-up systems are fully integrated and pre-engineered specific to your roof. The best part? They get installed over your existing roof. This means there is no chance for a random storm cloud to pop up and rain inside your building while the new roof is being installed.
Check out our past commercial metal roof replacement projects here!
How Can A.C.E. Building Service Help?
A.C.E. Building Service is proud to be a part of the national network of builders representing Butler Manufacturing and roof retrofit projects. We are the exclusive distributor of the Butler product line in Manitowoc and Sheboygan counties and throughout the rest of Northeast Wisconsin.
Whether you're looking for a simple building solution, a retrofit roof, or a multiple building complex, Butler buildings offer a fast, affordable, architecturally appealing, and environmentally-friendly solution with many significant advantages.
Contact us today or schedule a free consultation to learn more about the Butler MR-24 metal roof system and Butler's pre-engineered building solutions. Our expert team is ready to answer any questions you may have!