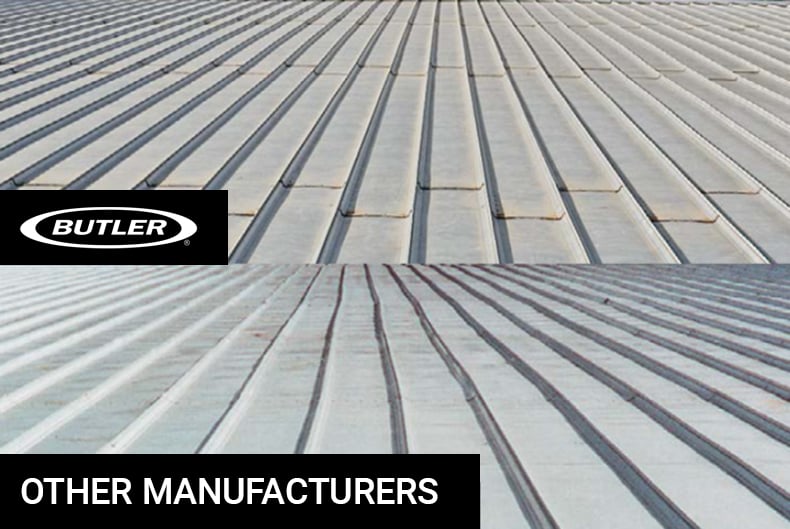 Metal roofs are gaining popularity in both commercial and industrial applications. There are many advantages of choosing a metal roof, from minimal maintenance to overall durability, to the ability to withstand changing seasons and extreme weather, like heavy snowfalls and high winds. As you research the best metal roof for your project, what are the important fabrication and installation factors to consider?
Butler Manufacturing's MR-24 Roof System is the industry's first and finest trapezoidal standing-seam metal roof system – with over 50 years of proven, in-place weathertight performance. This overall performance is directly related to the attention to even the smallest details during the installation process.
This blog discusses the three biggest reasons why the MR-24 roof system is superior to other metal roofs on the market.
1. Roof Panel Seams with a Double-Lock Seam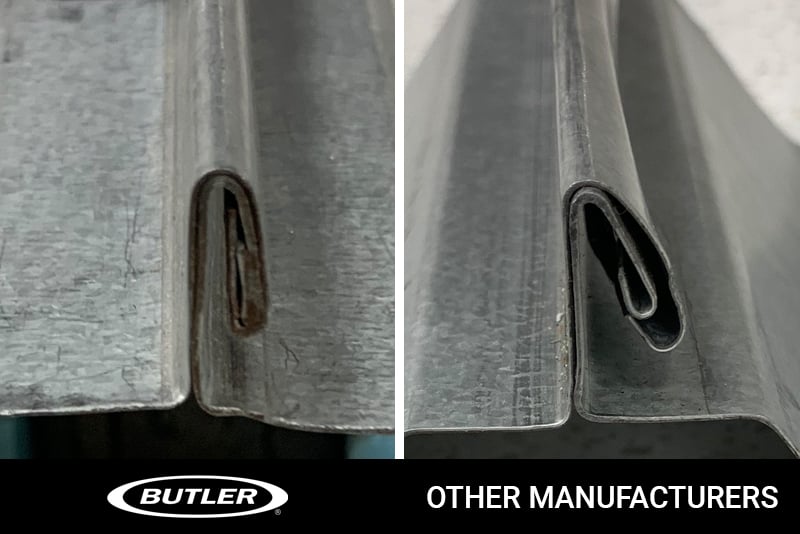 The panel side lap is key to keeping any metal roof weathertight. The Butler MR-24 roofing system provides the tightest and most durable seal by creating an exclusive 360-degree Pittsburgh double-lock seam. It is also the only metal roof system on the market where the critical final 180-degrees of the seam is mechanically field-rolled for superior protection.
Other metal roof systems roll, snap, or crimp the roof panels together, leaving them vulnerable to weather damages due to wind uplift and the stresses of roof traffic. These two methods fail compared to Butler's MR-24 roofing system panel seam process, which is the same seaming process used for car gasoline tanks, oil storage drums, and even the lids on soda cans.
This critical detail is extremely important to the roof's overall durability and integrity. It's also a major reason why the MR-24 roof system carries the highest UL (Class 90) wind uplifting rating, which means it is approved for use in hurricane zones and passes stringent Factory Mutual (FM) standards.
Don't take our word for it, see for yourself in this comparative checklist.
2. Integrated Gable Trim Limits Leaks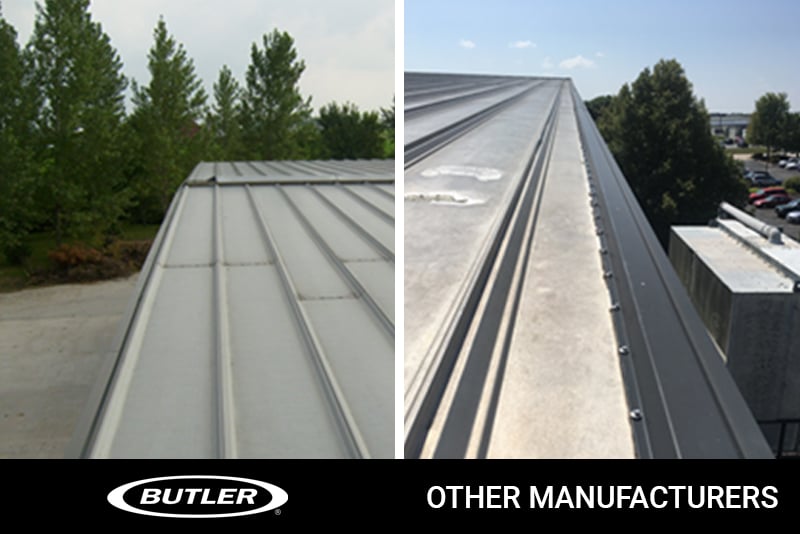 A gable trim seals off the edge of your metal roof and protects against rain and wind damage. A.C.E Building Service and Butler Manufacturing both know that every exposed screw on a metal roof surface is an added leak point that could lead to expensive repairs.
This is why the MR-24 roofing system uses an integrated gable trim, which is fully engineered and designed to be weathertight while also allowing roof movement from thermal expansion and contraction.
Other metal roof gable trims are simply screwed into the roof panels, leaving the screws open and exposed to variable weather. The MR-24's integrated gable trim is mechanically seamed into the roof system using the patented roof-runner machine. This process significantly lowers the number of exposed screws and potential leak spots.
Take a look at our checklist to see a side-by-side comparison of the MR-24 integrated gable trim and a traditional metal roof system gable trim on a 10,000 square foot building.
3. Roof Panel Slice Detail Guarantees Alignment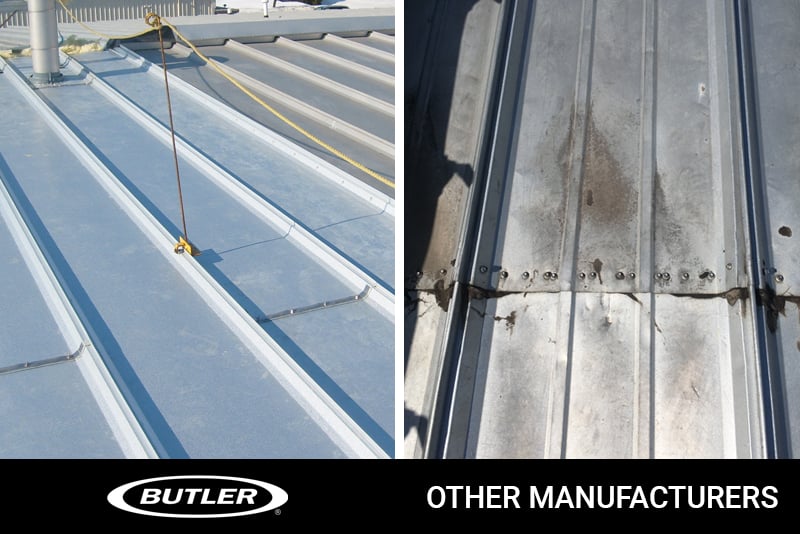 The MR-24 roof is installed with a staggered panel splice approach, eliminating any leak threat by offsetting adjacent panel splices. Our competitors simply join four panel corners at the same location, which makes it very difficult to seal and almost impossible to make weathertight.
Butler's factory punching approach ensures proper alignment of all roof panels and splices during installation. All splices are guaranteed to be placed directly above a secondary support structural member, a key detail that gives extra support for heavy loads like snow and foot traffic. The panel end splices are also joined together with a two-piece clamp connection, so the splice is not directly attached to the structural member, allowing it to freely move as it expands and contracts during temperature changes.
Other manufacturers offset their end splices away from a structural member because the connection is made with field-drilling screws and is often misaligned. This approach results in a weak and unsupported design prone to leaks and expensive repairs.
When it comes to the products and systems we use at A.C.E. Building Service, it's the little details that make the biggest difference. After all, it's the little things that hold everything together. We are proud to be a Butler Builder, and the MR-24 roofing system sets us above our competition in many ways.
Download our Re-Roofing Checklist to see how the 'other guys' in the market simply can't compare to Butler's innovative roof systems and installation approach.
Give Us a Call!
A.C.E. is here to help you optimally design your new manufacturing facility or facility expansion. We design and build with your timeline, budget, employees, integrity, and future in mind!
Our customers will attest that our ability to listen carefully to their needs has kept them coming back to A.C.E. as their preferred general contractor. Integrity, trust, fairness, honesty, reliability, responsiveness, and respect — these are the qualities to which we remain true.
Are you interested in learning more about our services or our partnership with Butler Manufacturing? Call us today or complete the project consultation form. We look forward to hearing from you!