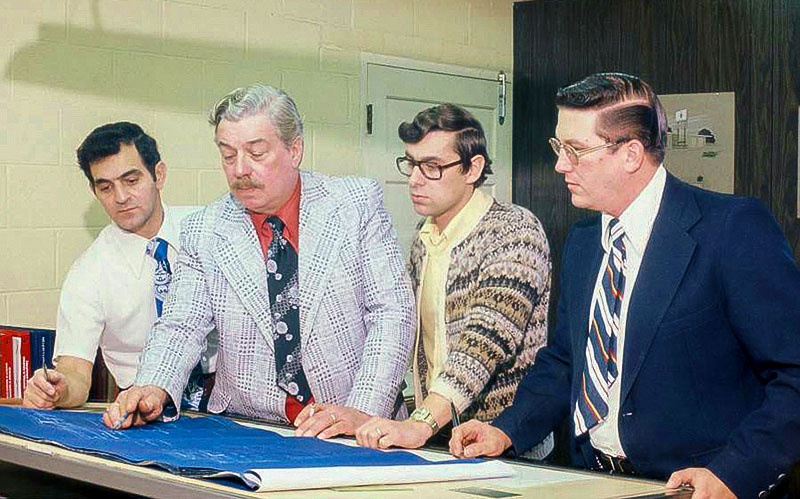 Pictured left to right: Gene Maloney, Architect; Allen Charles Eberhardt, A.C.E. Founder; Ron Schwalbe, Past A.C.E. President, and Mike Virnoche, Estimator discussing a new project circa 1969.
1950
Allen C. Eberhardt founds A.C.E. Building Service as an offshoot of A.C.E. Agricultural Supply Co.
1963
A.C.E. incorporates and begins to outgrow its agricultural roots.
1973
A.C.E. becomes an Authorized Butler® Builder of pre-engineered metal buildings.
1984
Ron Schwalbe and Jim Steuer purchase the company from Al Eberhardt. A focus on design-build projects in the private sector is established.
1998
A.C.E. builds and occupies its new facility at 3510 S. 26th Street in Manitowoc, allowing it to serve a larger geographical area that includes Sheboygan and Calumet Counties.
2001
Stan Johnson and Bill Shimek join in ownership of the commercial and industrial construction company.
2003
A.C.E. celebrates 40 years of construction service.
2008
Ron Schwalbe retires from A.C.E.
2013
A.C.E. celebrates 50 years as an incorporated business and 40 years as a Butler builder.
2014
Jim Steuer retires from A.C.E.

2017
A.C.E. acquires Corner Point, LLC, a surveying and land development services firm that will now be known as Corner Point, a division of A.C.E. Building Service.