Reliable loading docks are vital to the productivity and efficiency of many different types of businesses, ranging from production factories to retail stores. A loading dock is the lifeblood of a facility, and when run efficiently, it can ensure the fastest and safest inflow and outflow of goods.
Below, we outline everything you need to know about loading docks, including what they are, key features, and what to look for if your business is considering a new loading dock.
What is a Loading Dock?
Loading docks are attached to the exterior of manufacturing and industrial facilities. They are used for the delivery and unloading of raw goods as well as the loading and shipping of finished products.
There is no exact 'rule of thumb' in deciding how many loading docks a facility needs; it depends on what products the facility makes, how big the facility is, whether the facility is shipping or receiving products (or both), and the flow of the manufacturing process.
The Elements of A Loading Dock
There are many different elements of a loading dock that help with both functionality and efficiency. Here are some of the key features.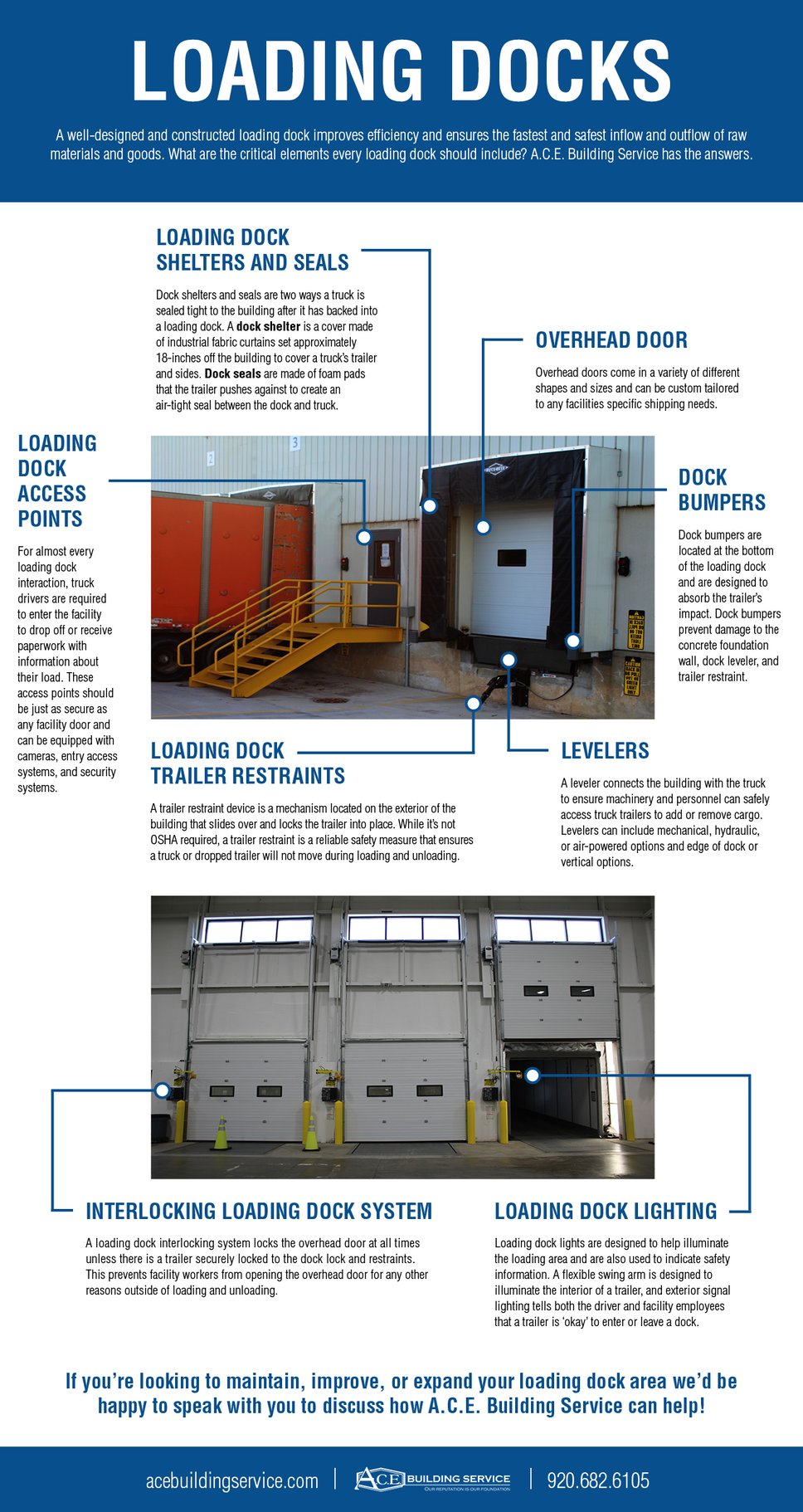 Leveler Plate
A leveler plate is a piece of equipment located inside of the building. It's often found in a pit in the building's concrete at the dock door. Its function is to safely get the loading apparatus, like a forklift, from the building into the truck's trailer.
A leveler must match the height of the truck, so it's important it has the ability to smoothly adjust and transition its surface from the inside of the building to the trailer. The three most common pit levelers are mechanical, hydraulic, and air-powered.
Mechanical dock levelers are spring levelers equipped with a pull chain that releases the tension of the springs, allowing the platform to rise. The operator must then walk or stand on it to push it back down. While this is a cost-effective leveler, it also relies on more moving parts—lip latches, springs, chains, pulleys, and hold-downs—that require a lot of costly

maintenance and replacement

over time.
A hydraulic leveler uses hydraulic cylinders and pumps to lift and place the leveler with a push of a button on a control panel. Some hydraulic levelers are even designed with the ability to stop at any level during deployment. While this type of leveler is more expensive upfront, it will save you repair costs over time.
Air-powered levelers

are an economical alternative to hydraulic levelers. Like hydraulic levelers, they are powered by a push-button, but instead of cylinders, an airbag or bellows system is used to raise and lower the deck.
Edge and Vertical Dock Levelers
Edge of dock levelers are a great cost-effective option if your facility only has infrequent delivery or shipping needs and doesn't require a full loading dock system. These docks are fixed to the edge of the loading dock and are equipped with a metal lip that you pull over and rest on top of a truck's trailer.
Vertical dock levelers are not recessed into the concrete and are stored in a vertical position. They sit on top of the concrete and are affixed to one side of a pit and extend to reach the bed of the truck safely. These types of levelers are gaining in popularity because they are easy to clean and maintain, and there is quick access to the machine's 'guts.' Vertical dock levelers also allow the truck driver to keep the trailer doors closed while backing into the loading dock, protecting the cargo from hazardous outdoor environments. They also allow for the dock door to seal against the loading dock pit floor for a better, more energy-efficient seal.
Overhead Door
An overhead door works like a garage door and is tasked with protecting the interior of the building from outdoor elements. It's important you have a door that offers adequate thermal protection, security, and durability.
A facility that is constantly shipping and receiving merchandise must have a fast, functional, and reliable overhead door. The type of facility you are operating will determine what overhead door material is best. For example, if you have a cold storage warehouse, it's important to have an air-tight, insulated door. Selecting the wrong door could lead to expensive energy loss and temperature control issues.
Take a look at a completed loading dock case study now.
Loading Dock Shelters and Seals
Dock shelters and seals are two ways a truck is sealed tight to a building after it has backed into a loading dock.
A dock shelter is a cover made of industrial fabric curtains that are set approximately 18-inches off the building to cover a truck's trailer and sides. Its purpose is to keep harsh elements like winds, rains, and extreme cold or heat out of your facility during loading times, providing energy savings and employee comfort.
Shelters can meet a wide variety of trailer sizes and types. They also come equipped with innovative components, including gravity-based designs that guide misdirected trailers and prevent costly building damage.
Dock seals are made of foam pads that the trailer pushes against to create an air-tight seal between the dock and truck. This is extremely important because any sort of gap or air leak, no matter how small, can lead to significant energy loss over time. Dock seals allow for maximum environmental control and stop rodents, bugs, and other pests from entering the building.
Dock Bumpers
Dock bumpers are located at the bottom of the loading dock and are designed to absorb the trailer's impact. Dock bumpers prevent damage to the concrete foundation wall, dock leveler, and trailer restraint. They are usually made of durable rubber and come in many different sizes based on vehicles serviced and the slope of the loading dock driveway.
Loading Dock Lighting
Loading docks are very high-traffic areas during shipping and receiving times, so there's a high potential for workplace injuries. Loading dock lights help keep the area safe by illuminating the trailer so employees aren't loading and unloading in the dark. They are equipped with a flexible swinging arm that allows you to direct the light exactly where you need it, and they are designed to stay in place once set in position.
Adequate lighting on the exterior of the building is also important so drivers can see the dock pit and building. This is also true for signal lighting that tells both the driver and facility employees that a trailer is 'okay' to enter or leave a dock. These lights look similar to traffic lights—green for 'enter' and red for 'do not enter.'
See these elements and more in this loading dock construction example.
Loading Dock Trailer Restraints
A trailer restraint device is a mechanism located on the exterior of the building that slides over and locks the trailer into place. While it's not OSHA required, a trailer restraint is a reliable safety measure that ensures a truck or dropped trailer will not move during loading and unloading. If a trailer disconnects from a loading dock before loading and unloading is complete, heavy equipment (forklifts, etc.) and workers can fall into the gap between the truck and the dock. This is a potentially serious accident that can cause serious injury or even death. The good news is that they are 100% preventable with the proper use of a trailer restraint device.
Interlocking Loading Dock System
Loading docks are high-traffic areas filled with potential dangers including:
Trailer creep
Forklift fallout and accidents
Slips, trips, and falls
This is why proper safety measures, like an interlocking system, are growing in use and demand.
A loading dock interlocking system locks the overhead door at all times unless there is a trailer securely locked to the dock lock and restraints. This prevents facility workers from opening the overhead door for any other reasons (hot days, airflow, etc.) outside of loading and unloading.
Loading Dock Access Points
For almost every loading dock interaction, truck drivers are required to enter the facility to drop off or receive paperwork with information about their load. Visitor management is important for the safety of your employees and merchandise, so it's important to install conveniently located and visible access points. These access points should be just as secure as any facility door and can be equipped with cameras, entry access systems, and security systems.
Adding a Loading Dock to Your Facility
A.C.E. Building Service helps facilitate any construction involved in the adding or expansion of loading dock areas. We are a trusted company and will be with you every step of the way from design to execution.
Some of the processes we will help with include but are not limited to:
Choosing the right location inside your plant to efficiently get materials on and off trucks and increase workflow productivity.
Choosing the best and most reliable operational machinery from overhead doors to pit levelers.
The addition of concrete retaining walls and concrete steps for safe driver access to shipping and receiving areas.
Digging out to lower the ground, underpin, or expand the foundation vertically.
Adding secure loading dock access points for drivers.
See a recently completed loading dock project now!
If your facility relies on continuous shipments of goods, having a reliable and safe loading dock system is essential.
A.C.E. Building Service offers commercial and industrial construction services with a reputation of reliability, trust, fairness, and honesty. If you are looking to maintain, improve, or expand your loading dock area, we would be happy to speak with you to discuss how A.C.E. Building Service can help!