Pole building.…steel building….metal building.…pole barn….
Same thing, different name, right? Wrong!
Although they can appear similar on the outside, the differences between a wood-framed structure (pole building, pole barn, pole shed, post-frame building) and a pre-engineered metal building (steel building, metal building) are pretty significant.
Below, we highlight the differences between pole buildings and metal buildings and why these differences are important to consider as you decide what best fits your needs.
Materials: Wood Versus Steel
The main difference between a pole barn and a metal building is the method of construction and level of durability.
Pole buildings have an interior frame made of wood with exterior metal panels. They are also called pole barns or post-frame buildings because wood posts are placed vertically in the ground or on a concrete foundation to support the structure's outer walls and roof trusses. The structures can either be heated or unheated and can be built in a variety of different configurations and sizes.
Metal buildings are constructed with completely non-combustible materials. Rather than wood structural components, these buildings have structural steel frames, steel wall and roof structurals, and steel roof and wall panels. Metal buildings can be designed to accommodate nearly endless uses, sizes, and building configurations.
Metal buildings are also pre-engineered and pre-designed, meaning all parts are fabricated in a controlled environment to exact dimensions and assembled later on site. This leaves little to no room for human error during construction, guaranteeing a solid and sturdy structure. Most metal buildings are constructed with a standing seam metal roof, whereas pole buildings have a mechanically fastened roof secured with screws. The screws install through the metal roof panel and into the wood framing, effectively creating hundreds or thousands of potential leak points in the roof of the building. The lifespan of a standing seam roof is more than double that of a mechanically fastened roof.
Did you know A.C.E. Building Service offers pre-engineered steel buildings for industrial and commercial purposes? Take a look here to learn more now.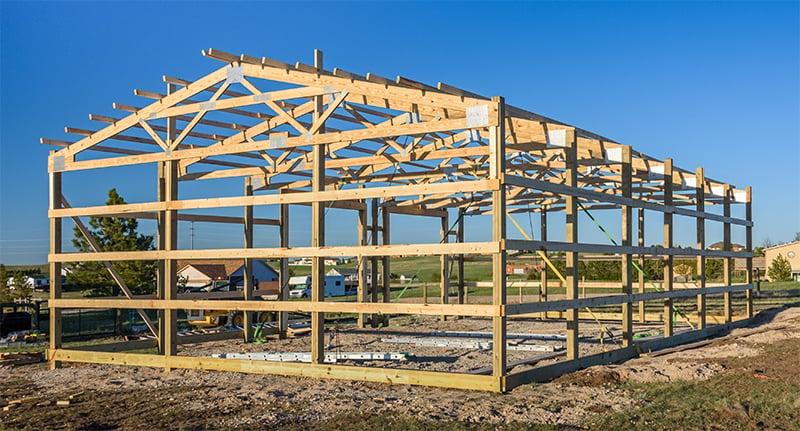 Pole buildings have an interior frame made of wood.
Construction and Durability
The largest and most obvious difference between wood and steel structures is the framing materials themselves. Wood is a cost-effective material that is readily available and easy to construct.
However, there are some vulnerable traits to a wood-framed structure that should be considered:
Wood is susceptible to weather damage like rot, mold, and natural deterioration.
Wood is a combustible material and can catch fire if exposed to extreme heat, sparks, or flame.
Wood can be damaged by insects, lightning, birds, and other animals.
Moisture and extreme heat and cold can cause wood to split, check, and shrink, allowing the bolts and screws to loosen and the structure to shift, warp and sag.
Steel, on the other hand, is one of the strongest and most durable building materials on the market. A steel building can provide decades of maintenance-free shelter and protection from the elements with proper design and maintenance.
Pole buildings typically have structural posts ranging from 6' to 8' on center. In contrast, a pre-engineered steel building typically has frames ranging from approximately 20' to 30' on center, which offers a cleaner appearance inside of the structure and greater flexibility for positioning overhead doors, entry doors, and windows.
If the building is designed to be heated, a pole building requires the attic space created by the trusses to be sealed off so insulation can be blown into the attic cavity. This creates an additional step in the construction process. Worse yet, if the building is large enough to require a sprinkler system, a secondary dry system is required to be installed in the attic space. By way of their design, steel buildings do not have attic spaces and do not require these additional provisions. The insulation is installed at the same time as the roof panel, creating a finished ceiling and building envelope in one step.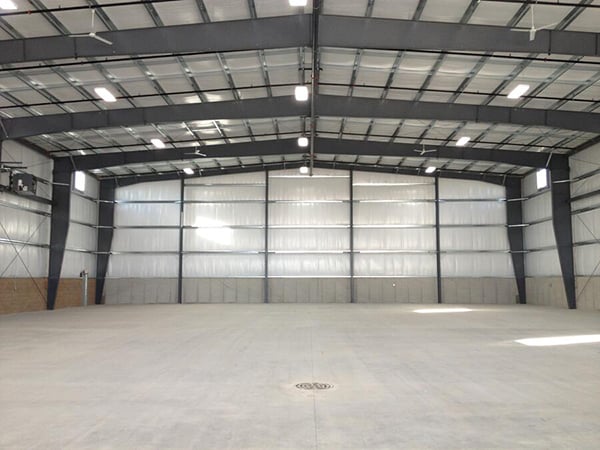 A steel building can provide decades of maintenance-free shelter and protection from the elements.
Design Limitations
Pole buildings and metal buildings are often used as comparable construction methods for smaller building needs. For instance, a building with the dimensions of 60' wide by 100' long with a 16' eave height could easily be accommodated with either building type. Depending on where you live, a cost-effective pole building will typically have limitations of approximately 60' to 80' clear span and an approximate 20' eave height. If your building needs exceed these, the costs will begin to increase rapidly.
Steel buildings, on the other hand, can be designed to have wider clear spans, taller eave heights, longer building lengths and can accommodate items like massive hanger doors, high snow and wind loads, and process equipment supported by the building structure. The size of a steel building can range from a few thousand square feet to hundreds of thousands or millions of square feet.
Don't need a massive building or huge doors?
A metal building might still be right for you. They are easily constructed, highly adaptable structures suitable for both commercial and private applications. Oftentimes, a metal building will drive lower insurance costs than a pole building and offer many more years of maintenance-free use.
Which one is right for you?
Hopefully, the information contained within this blog may help you decide what building type is best for your project.
A.C.E. Building Service provides metal building design and construction services for commercial, industrial, and manufacturing operations.
We are proud to partner with Butler Manufacturing, and be a part of the largest network of construction professionals in the world to provide our clients with the best steel buildings in the industry.
Are you interested in learning more about our service and seeing if a metal building is the right choice for you? Request a quote online or call us today. We look forward to hearing from you!