Scheduling a walk-through of your facility is an excellent opportunity to help identify improvement opportunities as well as potential risks and hazards. This blog highlights five key ways manufacturers can enhance their facilities to save time and money while also improving employee recruitment, retention, and safety.
1. Update Loading Dock Equipment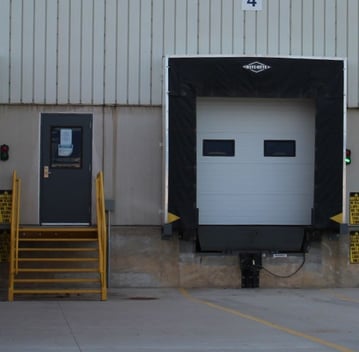 Having a reliable loading dock is essential to your facility's productivity, efficiency, and safety. If your loading dock is outdated, it could be costing you time and money through repairs and energy loss.
Is your loading dock a maintenance nightmare? Are you constantly making repairs? Are your loading dock shelters and seals looking tattered or torn?
These are all important questions you should ask yourself when assessing the state of your current loading dock.
Three factors to consider when updating your loading dock include:
Preventative maintenance —

Upgrading old or faulty equipment with new equipment can be more costly upfront but can save you thousands in

repair and maintenance

costs in the long run. Avoiding potential lost production time and stress on shipping and receiving flow are other great reasons to invest in preventative maintenance.




Energy Conservation —

If your loading dock seals are not firmly sealed around a truck's trailer, cold air during the winter and hot air during the summer will find its way into your facility. You wouldn't keep a door open all day in January, so why would you avoid replacing a worn seal?




Employee safety —

Upgrading or installing reliable built-in safety features like loading dock levelers and a vehicle restraint system can prevent trailers from leaving the dock during the unloading/loading process, ensuring the security and safety of your employees.
Don't forget about the importance of the aesthetics of your loading docks, as they provide an opportunity to make a great first impression. Updating doors, access points, and shelters can give a clean and polished appearance, showing your employees and customers you take pride in your business.
Want to find other ways to boost curb appeal? Click here to learn how upgrading your commercial doors can help boost the appearance and functionality of your business.
2. More Natural Light
When hiring is a challenge in a competitive labor market, it is more important than ever to offer current and prospective employees a positive work environment that is appealing and promotes overall well-being.
For many years, natural light was not included in the design and layout of industrial and manufacturing facilities, but there is growing evidence showing that adding more natural light can positively affect employee productivity and satisfaction. In fact, research shows that increasing natural light can improve mood, reduce the negative effects of stress, improve cognition, reduce aggression, and enhance overall well-being in people of all ages.
If LED lighting is your facility's primary lighting source, you may want to consider enhancing natural light through windows, an open floor plan, or skylights. This upgrade can result in physical and mental benefits for your employees, ultimately increasing employee satisfaction, retention, and productivity.
Contact A.C.E. Building Service to learn more about how you can brighten your work environment through interior and exterior renovations.
3. Controlled Access and Security
As technology advances, many businesses are opting out of lock-and-key security systems and installing electrical card readers on all facility entrances.
A few of the many benefits of electrical card readers include:
Greater access control over who comes and goes, as well as when they come and go.


Automatic door locks allow all doors to be locked at once, instead of a security guard walking around and physically unlocking or locking doors. Additionally, when an employee is terminated, you simply have to deactivate the employee's card or fob, which is much easier and less time consuming than rekeying the building.


Controlled access to buildings during off periods, means a manager can have secure remote access to unlock and lock doors from a smartphone or computer while off campus, letting in employees without having to physically come and unlock doors.
Updating your current lock-and-key security system to a card-reader system can give you peace of mind knowing your main entrance, employee entrances, and emergency exits are all secure under one unified and dependable system.
Learn more about our upgrade, repair and maintenance services and see how we can help you update areas of your manufacturing facility!
4. Facility Lighting
If your facility relies on outdated lighting technology, such as metal halide lamps, high pressure sodium fixtures, or early generation high efficiency fluorescent fixtures, you're missing out on significant savings. It's never a bad time to improve your building's energy efficiency by switching out old lighting technology with LED lighting.
Upgrading to LED lighting is beneficial for many reasons, including:
Reduced operation expenses — LED lighting lasts up to 25 times longer than traditional lighting, requiring less replacement and maintenance costs.


Increases commitment to energy efficiency — LED lights can provide the same brightness as traditional, outdated lighting fixtures but consume a fraction of the energy.


Multiple ways to save money — along with a lower energy bill, you can also save money through LED utility grants, incentives, and rebates.
Another significant benefit of LED lighting is the absence of light decay, which occurs when a bulb in a fixture loses its efficiency and becomes duller over time. LED lighting maintains the same color, amount of light, and shadows created on the facility floor at all times, ensuring employee safety and consistent facility conditions.
5. Employee Common Areas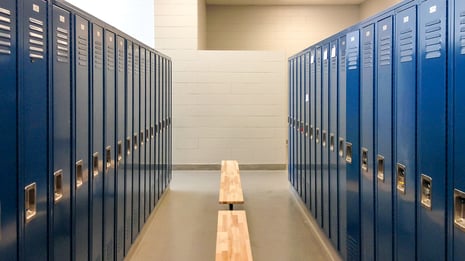 Think breakrooms, bathrooms, and locker rooms don't matter? Think again! Providing a safe and comfortable work environment can help attract new talent and retain your current employees.
Cramped breakrooms, dirty bathrooms, and unkempt locker rooms send your employees the wrong message. It's important to show your employees you appreciate them and their hard work by providing clean and appealing spaces they will want to use to recharge, so they can come back to work fresh and ready to go.
Take a look at how A.C.E. Building Services updated this manufacturing building's break room into an open, attractive space with natural light and an outdoor seating area for the warmer months.
No renovation, expansion, or repair is too big or small for A.C.E. Building Service. We are proud to be an industry leader, specializing in various construction services for industrial and commercial buildings, warehouses, and facilities.
No matter what your goals may be, A.C.E. Building Service can help you enhance your manufacturing facility. Contact us today if you are ready to boost your facility's appearance, save money, and attract and retain talent in today's competitive market!