Your commercial building is one of the biggest investments you'll make for your business. The best way to get a return on your investment is to keep your commercial building in peak condition.

Below, we highlight four reasons why building maintenance is the key to the success of your business and why you shouldn't wait to implement a preventive maintenance plan. After all, your building is a valuable asset that should aid in the overall success of your business, not hinder it.
4 Reasons Why Commercial Building Maintenance Is Critical for Business Success
1) Safer Working Conditions and Improved Employee Satisfaction
It's a competitive market out there, and it's important you're doing everything you can to hire and retain the best employees. The last thing you want is for your employees to feel like you don't care for their overall well-being and safety because your building is outdated or falling apart around them.

Performing routine maintenance checks and identifying any potential building hazards is a great way to help prevent on-the-job injuries and accidents, ultimately improving the health and safety of your employees. Checking your building's ventilation, security, and equipment performance are all great places to start.

It's also important to remember your employees see their work environment as a level of care from management. If you don't care about your building, why should your employees? Keeping up with building maintenance provides a clean, safe, and comfortable working environment that shows you take pride in your business.
Our blog highlights 5 enhancement ideas for your commercial building that can help improve employee recruitment, retention, and safety.
2) Increased Building Efficiency and Performance
Heating and cooling your commercial building accounts for about 30% of your business's energy use. If your old doors and windows leak air through inadequate seals, your climate control system is forced to work in overdrive, leading to increased energy consumption and higher bills.

In addition to losing energy, it's important to remember all your systems and machinery function as one ecosystem. If one building system fails, it's guaranteed other systems will fail soon after. For example, if your air conditioning is forced to work harder, your coolers must now work harder. The harder your systems and equipment work, the faster they fail.

Staying on top of commercial building maintenance can ensure all your building systems work together, ultimately improving efficiency and performance. This can all contribute to lower energy costs and increased revenue.
At A.C.E. Building Service, no building maintenance is too big or too small. From window and door maintenance to major re-roofing projects, we are here to help with all your commercial interior and exterior building maintenance needs. Learn more here!
3) Reduced Replacement Costs
Preventive maintenance can increase the longevity of your building's structure and systems, helping you avoid expensive replacement costs. For example, no roof will last forever, but routine maintenance can help prolong its lifespan, allowing you to budget appropriately for when the day comes that replacement is inevitable. Identifying and fixing roofing issues in a timely manner can also save you money in damage costs, as a small leak can eventually become major water damage inside your building.

The best way to stay ahead of expensive repairs and replacement costs is to develop an annual inspection program with a commercial building maintenance contractor or your facilities management team. They can check the condition of your building's interior and exterior systems, such as roofs, drainage, pavement, doors, windows, mechanical systems, loading docks, and other operational systems, determine a comprehensive action plan, and suggest or perform preventative maintenance.

Spending more than you should on roof repairs and maintenance? Perhaps it's time to invest in Butler Manufacturing's MR-24 Metal Roof System. Click here to learn more!
4) Improved Aesthetic Appeal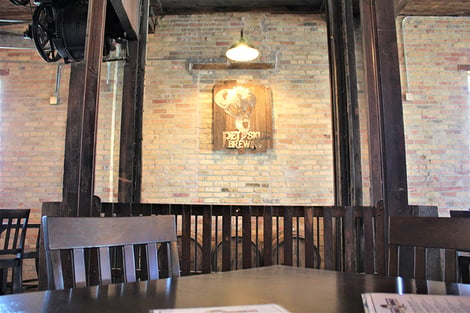 Your building is the first thing your customers and potential employees see, so it's important it leaves a positive impression. Regular commercial building maintenance is the best way to keep your facility looking clean, up-to-date, and aesthetically pleasing. Interior and exterior updates like fresh paint, door and window replacements, and repairing cracks in concrete sidewalks or asphalt parking lots can do wonders for curbside appeal.
You may want to ask yourself the following questions:
Is there enough natural light?
Are employee common areas comfortable and clean?
Is there enough open space?
Is the entrance of your building welcoming and visually appealing?
Scheduling a walk-through of your facility with a commercial building maintenance contractor is a great way to identify any areas for improvement that could boost overall appearance, performance, and functionality.
Read our blog for 5 key indicators that it's time to renovate your commercial building!
Implementing a Preventive Maintenance Plan
Don't know where to start? If you have facilities maintenance personnel and don't have a plan in place, chances are they have plenty of suggestions. If you are the facilities maintenance personnel, reach out to your trusted contacts that can offer expert assistance in the development of a comprehensive maintenance plan. After you've made the commitment to develop a plan, set clear goals and keep a detailed record of your building's floor plan, inspection reports, and yearly repairs to help you stay on a preventative maintenance schedule.

Preventive maintenance can prevent small issues from becoming bigger, more expensive issues in the future. Spend a little each year, or spend a lot at once - chances are it will be easier on your budget and your blood pressure.
A.C.E. Building Service is Your Trusted Commercial Building Maintenance Contractor
The best way to keep your building in peak condition is to hire a contractor that specializes in maintenance, repair, and replacement services for industrial and commercial buildings, warehouses, and facilities.

A.C.E. Building Service is proud to be an industry-leading Butler Builder and a trusted design-build contractor offering repair and maintenance services to businesses in Northeast Wisconsin and the Lakeshore counties of Manitowoc and Sheboygan.

Our team of experts can repair, maintain or upgrade any part of your building. From doors and locks to the installation of overhead cranes, from foundation repairs to complete re-roofing projects — We have you covered!

Contact us today to learn more about how our services can help your business succeed!