It's often believed office renovation projects require less effort, time, or resources than starting a new construction project from scratch. Although, this is not true in many cases.
If you're planning your office renovation and unsure where to start, you've come to the right source. Read on to explore everything you should consider when planning your office renovation, including budget, design, building codes, furniture selection, and more!
Everything to Consider When Planning an Office Renovation
When planning your office renovation, you should aim to maximize functionality, improve aesthetics, and increase the overall value of your workspace. First, outline your goals and consider the following factors.
Project Budget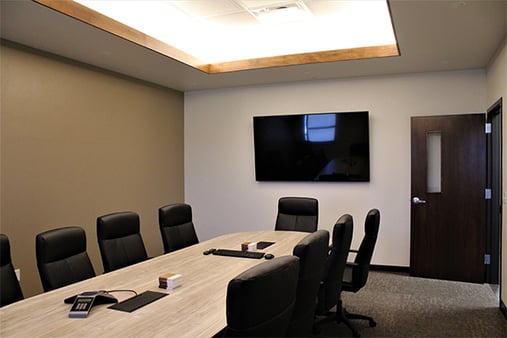 A project budget is a crucial aspect of any office renovation project, and its importance cannot be overstated. Your project budget should include every aspect of the renovation, from materials and labor to permits and fees. With a well-defined budget outline, you can proactively manage costs, avoid overspending, and make informed decisions throughout the project.
A budget analysis helps assess the project's feasibility and allows you to determine whether the proposed renovations align with available financial resources. If the project cost exceeds the budget, it may signal the need to adjust plans or rethink the scope of the renovation.
To maximize your renovation budget's value, prioritize particular areas and materials to create a cost-effective and efficient space. Take the time to explore a variety of material finishes, including flooring, casework, ceilings, lighting, and furniture options, ensuring you invest in durable, high-quality materials that will stand the test of time.
The first step to creating a project budget is understanding the difference between hard and soft construction costs. Learn more here!
Design
Design holds significant importance in an office renovation project. The existing space should be evaluated to create an optimized use of space that should offer the following benefits:
Brand representation: Your office space is a physical extension of your company's brand and values. The first thing clients see when they walk into the office is the reception area, which is an ideal location to showcase your company's identity and values by incorporating custom signage and your brand colors. Create a positive first impression for customers in the reception area, and continue the theme throughout the rest of the building.


Employee satisfaction: A well-designed office space that keeps employees in mind can positively impact employee satisfaction, productivity, and well-being. Comfortable spaces with natural light and proper ventilation, areas for collaboration, and aesthetic break rooms can boost employee morale and foster a positive environment.


Improved productivity: Well-designed office layouts account for the interactions between different departments and workflow patterns. Analyzing the communication needs of your teams can help create a space that allows movement and conversation while eliminating unnecessary disruptions to employees. Thoughtful planning of an office space encourages collaboration and teamwork, such as meeting rooms and open-plan sharing spaces for employees to work together efficiently.
At A.C.E. Building Service, no project is too big or too small. From fixing a door to commercial renovations and expansions, we're happy to help. Our work speaks for itself. Check out our project gallery!
Building Codes and Compliance
An office renovation can be an exciting endeavor, as it offers the opportunity to revitalize the space and create a more functional and appealing environment. However, amidst the excitement of planning new finishes and designs, pay attention to the less glamorous but essential parts of updating a building to comply with current building codes. Building codes exist to ensure safety, accessibility, and efficiency in structures. Neglecting to adhere to them can lead to unforeseen consequences.
When it comes to building codes and compliance, you should consider the following:
Structural Changes: Ensure that any building structure alterations adhere to current building codes for load-bearing capacity.


Fire and Life Safety: Upgrade fire detection and suppression systems, provide clear exit routes, and use fire-resistant materials to comply with the latest fire and life safety codes.


ADA Compliance: Create an inclusive space by implementing ADA accessibility standards, including ramps, elevators, wide doorways, and accessible restrooms.


Hazardous Materials Abatement: Under relevant regulations, address and remove dangerous materials like asbestos or lead paint following proper abatement procedures.
Need more office space? Read our blog for office buildout planning tips!
Sustainability and Green Initiatives
An office renovation is a great opportunity to introduce green initiatives into your building, which will not only help the planet but increase employee productivity and set your business as an industry leader.
The following are all ways you can make your building more "green."
Energy-efficient lighting: LED light bulbs can last 50,000 to 100,000 hours longer than traditional ones and produce high-quality light with minimal maintenance. Consider motion sensors or smart lighting systems that automatically adjust lighting levels.


Incorporate natural light: Incorporating large windows or skylights in the office reduces the need for artificial lighting, saving you money in energy costs. Natural lighting in the office has also been shown to boost employee energy and Vitamin D levels.


Build with sustainable materials: Using sustainable flooring and furniture reduces the environmental impact of your office renovation. Being environmentally conscious of your materials will lead to less waste in the landfill and less energy consumption.


Efficient HVAC systems: If you update your heating and cooling systems, a choice of an energy-efficient HVAC system can lead to lower energy costs and a reduced carbon footprint. You can also install programmable thermostats and zoning systems to control temperature in different office areas based on occupancy or usage patterns.


Indoor plant installations: The creation of green spaces, vertical gardens, or living walls not only enhance aesthetics but can also improve air quality, reduce employee stress, and increase overall productivity.
Check out these 5 key indicators that it may be time to renovate your commercial building. Read our blog now!
Technology and Infrastructure
A renovation to your office space is an excellent opportunity to improve your technology infrastructure. Evaluate your office and its technological needs and consider the infrastructure required for seamless communication, internet connectivity, audio-visual systems, and any specialized equipment necessary for your business operations.
When planning your technological upgrade, consider the following:
IT Infrastructure: IT infrastructure upgrades can impact the office renovation design due to the space and environmental requirements for server rooms, equipment racks, cooling systems, and power distribution.


Wi-Fi Connectivity: Determine your office's bandwidth needs and identify weak zones. Consider an upgrade or expansion to the current Wi-Fi network infrastructure to improve connectivity throughout the office. This process may impact your design when making a determination on the placement of Wi-Fi access points or equipment storage/enclosures.


Audio-Visual Systems: An upgrade of your audio-visual systems in conference rooms and common areas can improve worker collaboration and communication. Evaluate your existing projectors, video screens, and microphones and see if they can handle your current and future needs.
Take a look at how A.C.E. Building Service successfully renovated an existing office into a modern work environment in this office renovation case study.
Furniture
There are several factors to consider for choosing the best furniture for your renovated office space, which include:
Number of employees who will use the area


Unique requirements of each department


Architectural design of the space


Placement of furniture


The flow of employee traffic
Office furniture often comes with data or electrical hookups, which may require coordination with your contractor to ensure the correct electrical and data locations are installed during construction. You should also consider lead times for furniture orders and coordinate with the construction team to determine the most suitable time for furniture installation.
Construction Timelines
An office renovation can take time. A clear project timeline and a designated project manager can help the renovation stay on track and within budget.
A construction timeline is a comprehensive schedule that encompasses every stage of the renovation process. It starts from the initial planning phase and extends through the completion of construction.
Below are some ways to help stick to your construction timeline.
Project updates: Before the renovation commences, you will coordinate with your contractor to decide on the frequency of project meetings. These meetings serve as a platform to discuss crucial aspects such as the project schedule, constraints, budget, and the overall status of the project. Additionally, these gatherings provide an ideal opportunity to seek clarification, ask questions, or address any concerns you may have about the renovation.


Consider lead times and availability: The procurement of construction materials may involve extended lead times, which can vary depending on the type of material. To avoid unexpected disruptions to your business operations, it is crucial to identify and account for these lead times when creating the construction schedule. By doing so, you can proactively plan for the timely arrival of materials and ensure a smoother and more predictable construction timeline.


Communicate and collaborate: Effective collaboration with the contractor during the project's planning phase is critical and can benefit the overall construction process. Notifying neighbors and tenants of disruptive events during the renovation, such as parking restrictions and restricted building access, prior to construction can also help avoid any misunderstandings and keep the timeline moving forward.
Coordinating Office Operations and Construction Work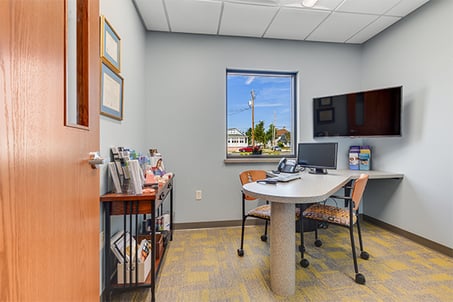 Collaborate with your contractor to develop a detailed renovation plan before starting your office renovation. This is a great way to ensure you can maintain business operations throughout construction.
Your renovation plan should outline the scope, timeline, and specific areas of the building under construction. Additionally, identify potential disruptions to business operations and work closely with your contractor to devise strategies for minimizing their impact.
Consider the feasibility of remote work for certain employees during the renovation. For those who work at the office, prioritize their safety by collaborating with your contractor to implement precautionary measures like barricades, warning signs, or sectioning off construction areas.
Another great way to coordinate office operations and construction work is to adopt a phased project approach and divide the project into manageable stages. Complete one area before proceeding to the next. This tactic helps minimize disruptions and ensures a smoother workflow throughout the renovation process.
Why Choose A.C.E. Building Service?
At A.C.E .Building Service, we believe in building lasting relationships based on trust, fairness, and reliability. With over 60 years of experience in commercial and industrial construction services in Manitowoc, Sheboygan, and the Lakeshore area, our team is here to help make your office renovation a reality. We are proud to be a Butler Builder and are dedicated to delivering exceptional results.
Our goal is to ensure your office renovation is smooth, stress-free, and results in a space that exceeds your expectations.
Contact us today to learn more about how our services can help your business succeed!