How can an office buildout be critical to your company's success? One of the ways that manufacturers can ensure continued growth is to be flexible. That flexibility can manifest in many different ways, including changing what you produce, how you produce it, or how much you produce. Many of those changes will result in staffing changes that will require you to increase your available office space.
Different office-based positions will have different needs, and the facility space you currently have available will also impact your options. Below, we outline how to understand your office buildout options, what the build-out process entails, and how A.C.E. Building Service can support you every step of the way.
Why Might A Manufacturer Need More Office Space?
There are several reasons why a manufacturing facility may need additional office space. Here are three of the most common circumstances.
Periods of Growth: More production means more employees, including those in support and management roles.
Process Flow Changes: If your company installs new equipment lines requiring employees or supervisors to be nearby, you may need to add or relocate office space.
Moving to a New Facility:

Whether your new building is an empty shell or already has some office components present, you will need to make changes to meet your unique needs.
Get inspired with these examples of office buildouts.
What Types Of Offices Work Best In Manufacturing Facilities?
Working with the right partner will make it easy to determine what will be best for both your environment and your budget. Several types of office buildouts are available for manufacturing facilities; here's an explanation of what each can provide for your team.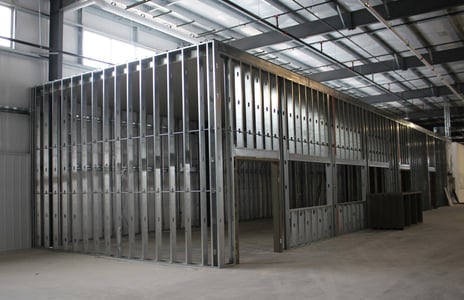 Modular systems: Modular office systems are made out of components. These components can be ordered from a manufacturer, shipped to you, and then assembled either by the manufacturer or by your contractor.
Cubicle workstations: Most of us are familiar with cubicles from traditional office environments, but they can also be useful in manufacturing facilities. If you currently have no office space, or if you want workstations right on the manufacturing floor, cubicle workstations can be a quick, flexible, and affordable solution.
Stud walls: Offices built with stud walls are typical permanent construction. This option is built with wood or steel studs, insulated walls, and finished with drywall or paneling.
Masonry walls: Also known as block or cinder block walls, masonry walls are often used in place of a stud wall in heavy industrial environments that are dirty or very susceptible to damage. Masonry walls are often more expensive to build, but they are far more resilient than a stud wall.
How Do you Integrate Offices Into An Existing Manufacturing Facility?
Now that you have thought about both your needs and your construction options, it's time to take a look at your manufacturing facility. Here are five questions to ask, in order, that can help you narrow down your options.
How much additional office space do you need?
A single office can be a straightforward project, but when you need six private offices, bathrooms, conference room space, a break room, a mechanical room, and some storage, there are many additional considerations.
What will the roles be of the individuals in these offices, and how will the overall space be used?
It's important to think beyond how many offices you need and consider the functions inside of the space. For example: How many people does the conference room need to accommodate? What amenities are required in the break room?
How can you choose the right location within your facility?
Don't select your office space at random. Even if you are starting with a new, empty facility, you will want to consider the use patterns, convenience, and other elements that could impact your office site location. Within an existing plant or manufacturing facility, the space you plan to use for offices is probably already occupied by another function. Even if it's just storage, you will need to make a plan for relocating items or processes.
How do you choose the right construction type?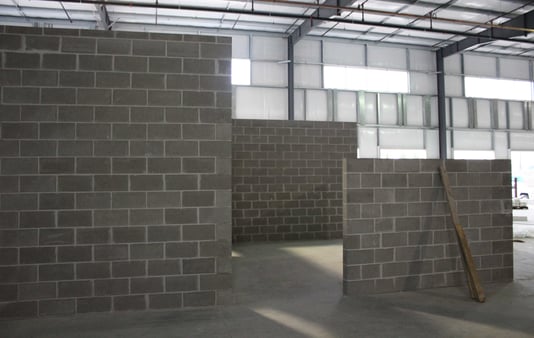 Choosing the right construction type will depend on what the final purposes of your new offices will be. For example, if you are building a new office for your Human Resources staff, security, privacy, and sound absorbing materials will be required. Cubicle workstations, on the other hand, would be a great choice for a floor operations manager to easily see and hear exactly what is going on at all times.
Will your contractor help in this planning process?
One benefit to working with an experienced, full-service, design-build contractor like A.C.E. Building Service is that you will have guidance in getting the right answers to these questions. A high-quality partner will interview you to understand not what you want, but why you want it and how you want the new office space to work.
Building Out Your Office Space: A Six Step Process
Adding offices to your manufacturing facility can be a large project. It's important that you understand everything involved so that you can communicate efficiently with your contractor, and prevent issues before they happen.
Here are the six major steps in the office buildout process, and what you need to know about each one.
1. Site selection
When you are adding offices to an existing building, there are many variables. Sometimes the site selection is straightforward, and sometimes there are several options and complex, conflicting considerations. Your contractor should help identify areas within the building or facility that would be more feasible or cost-effective for these spaces to be built.
2. Scope of project
Whether it is a small project or a larger office buildout, defining the scope of your project is critical. Taking the vision you have in mind and turning it into a detailed, quantified plan requires you to start with the end-use of your new office space and work backward.
3. Project planning
Project planning is particularly critical when you are adding new office space to an existing, operational manufacturing facility. To avoid impacting critical production schedules, your contractor will use their previous experience to create a plan that prevents any issues with your equipment or staff. The contractor you choose should be able to make your life easier, and the best way to do that is to have a good plan.
4. Design
Once you have outlined the scope of your project and made a plan, it's time to think about how you want your new office space to look and feel. Do you want a simple, utilitarian space, or do you want to offer a different experience for your team with a space that has stylish design elements? Floor, wall, and fixture finishes can create very different experiences depending on the choices you make.
5. Approval and Permitting
Typically, projects like office space additions will need to be permitted. In some cases, your plans must be approved by local or state officials. Thankfully, you don't have to work through this process alone. An experienced, full-service contractor will facilitate this process, ensuring that your project is compliant and successful, with no need for outside architects or other input.
6. Construction
Now that you have defined, designed, and planned your project, it's time to get construction started. This is both the most exciting and the most disruptive part of the project, so make sure that you have chosen a partner who can minimize any negative impacts it may have on your company's operations (and your customers).
Here are four questions that you and your contractor must work together to answer to prevent problems and ensure success for everyone:
Where can your contractor access the building to deliver materials?
Are there certain times of day that your contractor should (or should not) be working?
Do you want your contractors to work during non-production hours, such as at night?
Is your operation sensitive to dust or vibration?
Learn more about the design-build construction process and why that makes a big impact on the outcome of your project.
Why Should A Manufacturer Choose A.C.E. To Build Out Office Space?
A.C.E. Building Service is a design-build contractor that has provided commercial and industrial construction services to owners and facility managers in Northeast Wisconsin since 1963. We allow you to keep your focus on your operations by offering turn-key services. We have decades of experience and can help guide our clients through every step of the office space construction process.
When you work with A.C.E. Building Service, you are gaining a partner who will work with you toward the common goal of meeting your team's needs and continuing to grow your business. If you are ready to make your project ideas a reality, contact us today to create a plan.
Questions? Review our helpful FAQs now!