There are many factors and decisions that need to be considered before buying land for a new business building. The right plot of land can help ensure success and growth in the years ahead while making an unwise choice can cripple even the most promising businesses.
Below, we help you answer five questions you should ask yourself before purchasing a plot of land, giving you the insight and information you need to feel confident you're choosing the best land for your new business.
1) Is the Land a Wetland?
The last thing you want to do is purchase land only to find out later you can't build because of a wetland. You may be asking yourself: What is a wetland, and how could it impact the vision for my new business building?
Wetlands are areas where water covers the soil or is near the top of the soil either all year or during certain seasons throughout the year. A Wetland functions as its own ecosystem, supporting a variety of plant and animal life. Many governmental entities have regulations and restrictions to protect these ecosystems that impact what (if anything) can be built on a designated wetland. These restrictions are also put in place for many sociological reasons, including maintaining natural water purity and controlling flooding.
If you have your heart set on a property with a wetland, hiring a professional to perform a wetland delineation can tell you exactly where the wetland is and determine where, if at all, you can build on that particular property.
The Wisconsin Department of Natural Resources (DNR) provides the information you need about Wisconsin wetlands, including wetland inventory maps of Wisconsin wetlands, wetland mapping methods, and wetland delineation.
2) How Is the Existing Contour of the Land?
It's also important to consider any elevation changes on the land, as this can impact excavation requirements. Performing a contour survey, or topography survey, can give you a complete insight into any valleys or hills present on the land and its surrounding areas, which is a great way to gauge how much work needs to be done on the physical landscape of the land before construction begins.
Does the land need to be leveled? Do the adjacent properties favor water drainage? Will I need to add proper drainage by adding or removing additional ground fill? How much will this cost, and how will it affect the overall project plan and budget? A contour survey is a good starting point to begin answering these questions.
Did you know A.C.E. Building Service offers a broad range of surveying and land development services to public and private clients in Northeastern Wisconsin? Learn everything you need about land surveying, including why and when a trusted survey professional should perform a land survey, here!
3) What Are the Zoning Codes and Covenant Requirements Attached to the Land?
You may have heard of the term "zoning" before, but what does it actually mean? Local municipalities have designated areas within townships, villages, and cities that define what can be built and where. These zones are meant to help control how areas are developed and allow for communities that are developed in an intentional and logical manner. Typical zoning districts consist of parkland, residential, business, industrial, and commercial designations.
This is why zoning codes and covenant requirements were created.
Zoning codes tell businesses and property owners what they can build on a particular plot of land. In other words, if you purchase property, zoning codes will dictate the type of building you can construct on it down to the building dimensions and height.


Covenant requirements are a set of restrictions and obligations placed on the use of a commercial or residential property that must be adhered to by the property's owner. The purpose of restrictive covenants is to preserve the value and enjoyment of adjacent properties. They can include limitations and requirements on exterior paint colors, types of siding, fences, landscaping, design of structures, and more.
Understanding these codes and restrictions and knowing whether or not city officials will approve your project plan will prevent you from being blindsided by any design or construction issues after purchasing a piece of land for your new business building.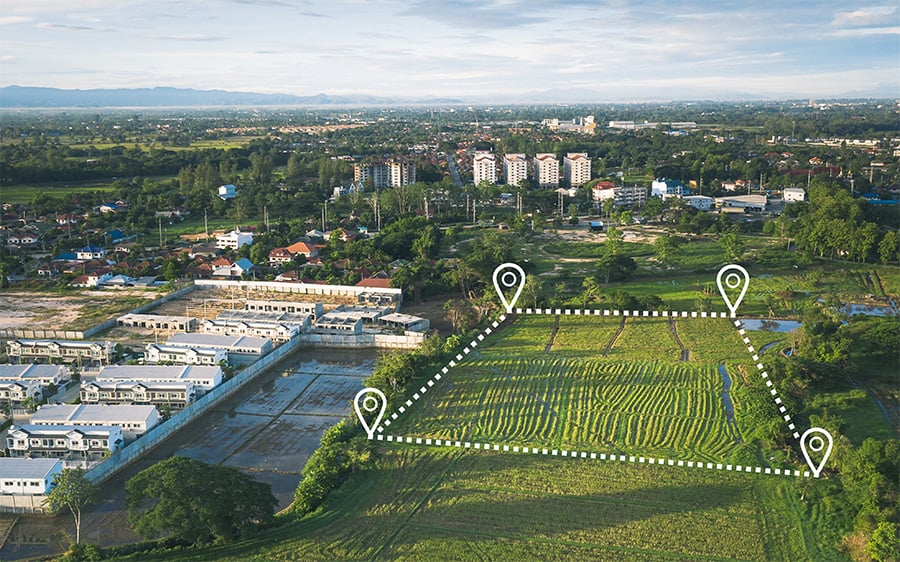 4) Is the Location and Landscape of the Land Conducive to Business Needs?
It's important to know if the location and landscape of a plot of land will be conducive to your business needs, functions, and logistics. Developing a schematic layout of the proposed new business building is a great way to ensure the land you're purchasing is appropriate for the needs of your business today as well as future growth potential.
Your business's overall operations and building needs will help determine what you should include in a schematic layout. The following are a few common things to consider:
Number of employees and parking requirements
Location of departments

How departments will work together

Required loading dock quantities and locations

Building dimensions

Overhead doors and access points

Traffic flow patterns and relationship to your building
Click here to learn about 5 inconspicuous factors that can influence the overall cost of your commercial construction project. At A.C.E. Building service, we offer complete cost transparency, so you're never in the dark when it comes to the cost of your project.
5) Will Financing Affect the Construction of My New Building?
In addition to conventional financing, other options may be available to prospective builders. There may be business loan programs, local, state, or federal grants, Tax Increment Financing (TIF) or other incentives offered to new builds or expansion projects. If you're not sure where to begin, your local municipality, lender, or design/build contractor are all great places to start.
If you've never gone through a construction project before, make sure to use the resources available to fully understand how commercial loans are structured, how long your project will take to build, and what other considerations you may need to give but might not be aware of before you begin building.
Many banks require you to provide a budget or firm construction proposal before they accept you for a loan. Working with a trusted building contractor like A.C.E. Building Service can help you understand the full scope of your project, including land restrictions and requirements, helping you create the most accurate project plan and budget.
A.C.E. Building Service is Your Trusted Commercial Building Contractor
At A.C.E. Building Service, we proudly offer commercial and industrial preconstruction services, including insight into permitting and zoning requirements, projected budgeting, preliminary topographic and boundary surveys, and more. Our team is here to provide the extra help and guidance needed to answer the above questions, so you can feel confident knowing you're investing in the best land for your new business building.
We also provide comprehensive design-build contractor services, making us your one-stop commercial and industrial builder for your facility needs. We are proud to be an industry-leading Butler Builder® for over 50 years, providing our customers with fast, affordable, and versatile pre-engineered metal building solutions. From concept to construction, we are your trusted partner with you every step of the way.
Schedule a consultation with us today. We would love to hear about your future project and discuss how we can help with our award-winning preconstruction and construction services.