Some of the most impressive and distinct construction projects for 2017 were recognized at the 25th Annual Associated Builders & Contractors (ABC) of Wisconsin Projects of Distinction Awards Program held February 15, 2018 at the Glacier Canyon Lodge Conference Center in The Wisconsin Dells. The Projects of Distinction Awards Program is designed to recognize the most distinct construction projects in Wisconsin, and to elevate the awareness of the quality construction performed by ABC member firms and their employees. Projects are judged annually on safety, craftsmanship, execution and coordination, budgeting, scheduling, unusual challenges, owner and architect satisfaction and overall distinctiveness.

Forty-five projects were evaluated by six independent judges who share expertise in the field of construction. A.C.E. Building Service is proud to have had three construction projects recognized for 2017. A.C.E. team members and project owners were on-hand to accept the prestigious awards.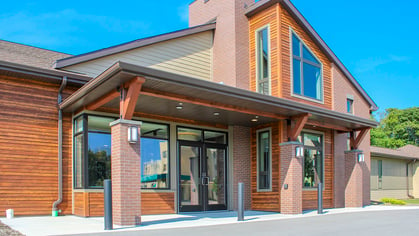 In the Commercial – Under $2 million category, A.C.E. was awarded a Silver Award for the Wisconsin Aluminum Foundry Office Expansion, pictured above. This project saw the transformation of an existing heavy industrial space to a professional office setting. Original early 1900s-era building elements were incorporated with modern technologies and reclaimed building materials were sourced from area demolition projects.
In the Healthcare – Over $5 million category, A.C.E. earned a Silver Award for the Shady Lane Assisted Living Expansion, pictured at left. This project exemplified how design-build construction should be delivered. The inclusion of all of the major trades in the design process produced a satisfied owner, and a project that finished ahead of schedule and within .02% of the project budget.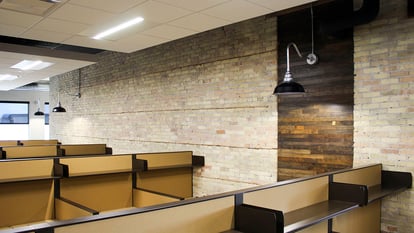 In the Restoration & Renovation category, A.C.E. earned a Silver Award for the Forefront Dermatology Renovation at River Lofts, pictured at right. The 15,000-square-foot first floor renovation of the historic O. Torrison & Co. building in downtown Manitowoc, Wisconsin was a fast-tracked project focused on historic preservation, reclaimed materials, and working closely with the owner and key ABC member trade partners.
We look forward to the annual ABC-Wisconsin Project of Distinction Awards and the opportunity for the A.C.E. Team to be recognized for their commitment, innovation and ability to go the extra mile on each and every project. We are extremely proud of these awards and know that the achievement goes to the entire team of design-build partners, as well as to the owners who place their trust in us to help them reach their goals.
Check out our project pages for more photos and details about these and other award-winning projects built by the A.C.E. team.