MANITOWOC, WI: Brody Kiekhaefer has signed a letter of intent, committing to work in the field of commercial construction at A.C.E. Building Service in Manitowoc, Wisconsin. The Signing Day took place at Reedsville High School last May.

Brody was accompanied by his biggest fans, family, and friends. "Throughout Brody's Youth Apprenticeship with us, he showed how he was a team player and an integral part of our team," stated Field Superintendent, Max Maigatter. "He exhibits a great work ethic, which led to him becoming a permanent part of our team."
You may have read a press release like this for a basketball or football player to play in college following their high school career... but what about the students who commit themselves to the trades? At A.C.E., we want to celebrate this choice trade students are making as the next step in their future.

We also want to be a helping hand to those unsure of what comes next and what to do. In high school, students have math teachers for the accounting major, English class for the writer, and coaches, practice and games for the aspiring professional athlete. But where does the construction craftsmen get to train and prepare for their future? This is where the Youth Apprenticeship program comes in.
What Is the Youth Apprenticeship Program?
The Youth Apprenticeship (YA) program hasn't been around for long, but it has made a huge impact on the lives of students able to take part thus far.

Wisconsin's Youth Apprenticeship program, sponsored by the Department of Workforce Development, integrates school-based and work-based learning to provide students with employable and occupational skills. Students are trained and taught by qualified teachers and skilled worksite mentors to prepare for their careers while still in high school.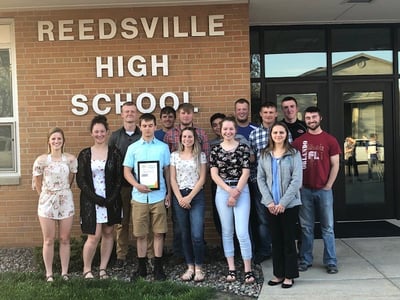 The program provides numerous benefits to employers such as developing a great recruitment pipeline to train future employees, providing supervisory opportunities for current staff, and reducing turnover, but there is a great deal of responsibility that employers take on for this student to be able to succeed in their program and future career.
These responsibilities to the student include:

Interview and hire YA student(s)

Provide on-the-job training to YA student(s).
DWD provides a program competency checklist that needs to be followed in accordance with child labor laws. Apprentices can be assigned additional duties as they progress with their job knowledge and skill proficiency.

Pay YA Students.
Students need to be paid at least minimum wage. Wage comparisons can be provided to employers if requested.

Participate in regular progress reviews.
The progress reviews are attended by the mentor, apprentice, school representative, and parent(s) or guardians are held quarterly and typically last 15-20 minutes.

Ensure 450 hours of worksite training (per year).
This averages out to 12 hours per school week. Students typically receive up to 3 hours of release time per day to be at the worksite. Hours of employment are set by the employer and the student. Hours should be as consistent as possible throughout the school year as students have this time built into their schedule.

Participate in Mentor training.
Training is approximately 90 minutes and is provided virtually or face-to-face for new employers and mentors.
In Manitowoc County, the YA program has a 98% completion rate with an average hourly starting wage of $10.17 for YA students. Moreover, 76% of students continued with their employers after the completion of the program.
How Does A.C.E. Building Service Prepare Students for the Trades?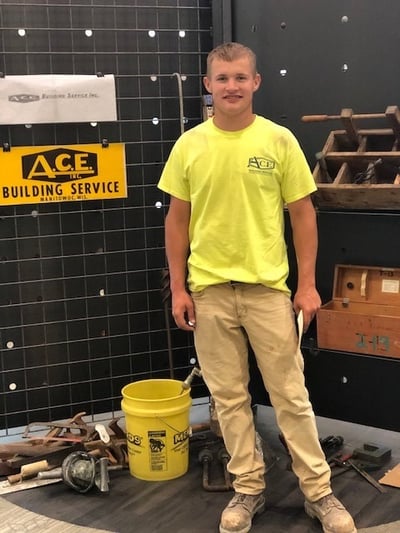 During the 450 hours of paid training that the student receives, A.C.E. employees make sure to include and properly educate our apprenticeship students; after all, the student is an investment of ours!

As the mentorship begins, an A.C.E. mentor, school representative, and the student identify a few goals for the student and discuss areas that the student may have an opportunity to improve. The mentor and the student also consider the student's aspired future plans for after high school and what steps they can take together to ensure these goals are met.

Throughout the program, the mentor positively influences the student as they continuously work on the following employability skills:
Attendance
Attitude
Reliability
Accuracy
Initiative
Critical thinking
Communication
Flexibility
Teamwork
Workplace standards
These criteria are all extremely important skills to have for those entering the trade industry. Our students have found success in their careers and in their apprenticeship training from acquiring these skills.

Our experience with the YA program was so positive, we decided to participate again when our first youth apprentice graduated. "The Youth Apprenticeship program at A.C.E. runs great," says Ben Eiles, a current YA student working for A.C.E. Building Service. Ben continues, "there is good communication, good employees, and they are very flexible with school schedules." Any great partnership is a win-win, and this one is no different. "Ben has been a great addition to our team. Always there when he needs to be, as well as ready and willing to learn and help out," says Max Maigatter.

Ben also adds how the program has taught him, most importantly, the construction trade — which has helped him figure out what he wants to do after high school.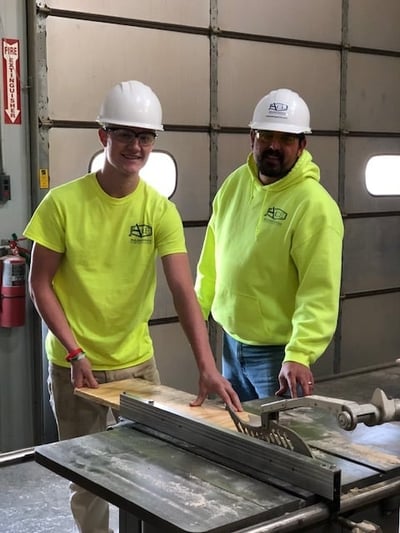 Why Working With and for A.C.E. Building Service Is a Great Choice
As for Brody Kiekhaefer, he is now a general laborer, working full time for A.C.E. Building Service directly following high school graduation. Brody reminisces about the reasons he got into construction, why he started working with A.C.E., as well as how the Youth Apprenticeship program has helped him land a job doing what he loves. "What I love most about my job is definitely being outside and being able to interact with everyone on a daily basis. I get excited to be able to drive by a facility and be able to say 'I helped build that,'" says Brody.

What Brody has to say about his experience as a youth apprentice before he was hired on says a lot about the men and women that A.C.E. prides as our own. Brody shares, "The guys I worked with during my youth apprenticeship were nothing but patient and helpful. They took the time to explain everything to me and helped me whenever I needed it."

At A.C.E. Building Service, our reputation is our foundation. We carry this motto throughout every project and every interaction — not only with our customers but with our own employees.

Do you know a high schooler that is interested in learning more about the trades and everything it has to offer? Encourage them to talk to their school faculty to see if the youth apprenticeship program is right for them!