The A.C.E. Building Service design-build team recently completed the construction of 36 single occupancy units connected to the Shady Lane Assisted Living facility in Manitowoc, Wisconsin. These apartments are part of Shady Lane's master plan which will include as least two additional senior living facility expansions in the coming years. A shift in the elder care industry has seen more seniors remaining independent as they age. These new units, designed to feel more like residential apartments than a full-service nursing home, will better meet the growing demand of the Lakeshore's aging seniors.
Phased-In Approach
The construction of the 34,500-square-foot addition was implemented in two phases. The first phase involved the development of 18 residential units complete with 400 square feet of common space, private bathrooms, walk-in showers, and kitchenettes. Facility-wide dining and kitchen areas, a lobby and shared community space, as well as a connecting corridor to the existing assisted living facility were also completed during this first stage. The remaining 18 units, specifically dedicated to assisting residents with memory care, were constructed during the second phase. Durable, yet warm interior furnishings such as sitting area nooks, wall art, and designer lighting fixtures give the units a modern feel. Additionally, ADA compliant entrances ensure residents and visitors will be able to access the entire facility without restriction.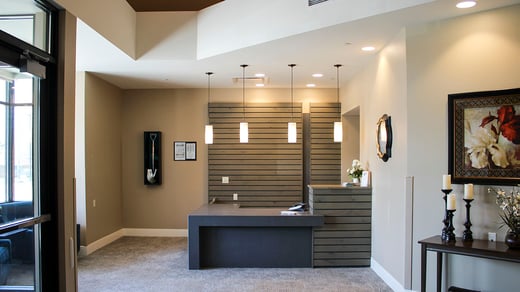 The Design-Build Team
We partnered with Shady Lane's architect Eppstein Uhen Architects (EUA) of Milwaukee, Wisconsin to design the new addition. "Working on this project led by A.C.E. Building Service has been a breath of fresh air," says Greg Zastrow, Principal and Senior Project Manager at EUA. "This is one of the most efficient projects I've ever been a part of in more than 30 years. A.C.E. and their contractor partners stayed in front of issues and never lost sight of the owner's best interests." Thanks to constant communication and cooperation between our team and EUA, the first phase of construction was completed two months ahead of schedule. In addition, the project had only eight RFIs and one change order in the amount of $15,752 - just 0.22% of the total value of the project!
Our partnership with EUA involved selecting the major trades based on overall merit, reputation, quality of work, and ability to supply manpower for the demanding project, rather than on total cost alone. As several dozen tradesmen were on the jobsite at any given time, managing and scheduling multiple companies proved challenging. A.C.E. handled day-to-day jobsite management through close and consistent communication with project stakeholders and subcontractors.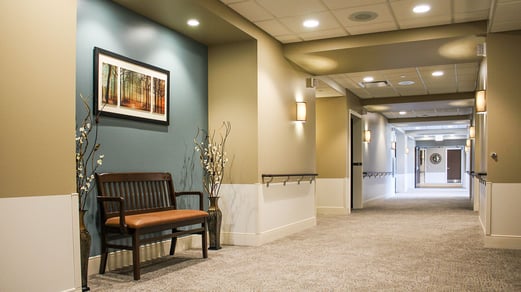 The single-story addition was constructed with the use of wood frames as well as panelized interior and exterior wall sections. These wall sections were assembled off-site, saving both time and money, as well as avoiding material waste compared to traditional framing techniques. The hours saved proved instrumental to the overall project timeline as weather and material delays threatened the schedule. Despite these challenges, our team was able to deliver the project ahead of schedule and on budget.
Kudos to the Team
"The Shady Lane project really exemplifies everything a true design-build approach to construction is meant to deliver," says Stan Johnson, President of A.C.E. "When you take into account that this project entailed 25,379 man hours across all disciplines, that is a feat to be proud of."
This project was recently awarded the 2017 Projects of Distinction Silver Award for Healthcare Projects Over $5 Million by the Associated Builders and Contractors of Wisconsin. "We would like to congratulate Shady Lane, Eppstein Uhen Architects and Pierce Engineers, Inc. on a project well done," adds Johnson.
We hope to partner with Shady Lane Assisted Living as they continue to expand their community-based residential facility. Their master plan will include additional expansions of their elder care community in Manitowoc as they strive to remain responsive to the changing face of senior living.