The custom staircase was designed and built using salvaged old growth spruce stair treads.
A.C.E. Building Service has had the pleasure of providing construction services to Wisconsin Aluminum Foundry (WAF) for the past 50 years. Over the years, we have expanded their foundry to increase production capacity, constructed equipment and machinery foundations, and renovated several office spaces throughout the building. Recently, we were selected to design and construct an office space within their existing manufacturing facility in Manitowoc, Wisconsin. Our goal was to create a space that transformed an existing industrial area into a modern office setting, all the while maintaining the building's original design elements.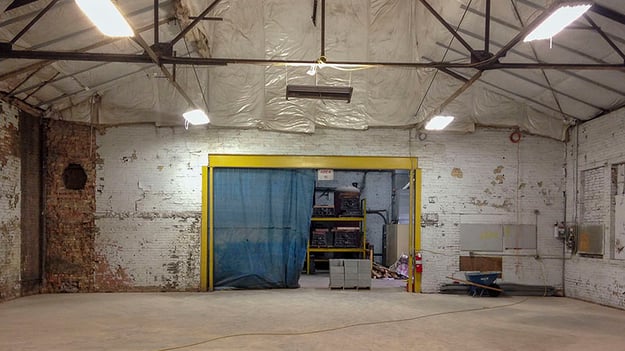 Due to the building's age and layout, we were faced with some unique challenges. The office spaces were to be constructed in one of the oldest portions of the building which required navigating nearly 100 years of dirt, paint, and mechanical infrastructure, pictured here. As the meeting rooms and offices were to be built adjacent to the operating foundry, we needed to ensure the space would not be affected by the heat, dust, and noise that is part of that environment. We consulted a sound engineer who helped us better understand how to minimize the transference of noise from the production area to the new offices. We developed a plan that utilized an isolation membrane installed at the base of all new masonry walls. These walls were then subsequently filled with sand to further prevent noise pollution. NRC-rated suspended ceiling tiles were installed to reduce noise reverberation in offices and corridors. Lastly, resilient channel and sound attenuation batt insulation was employed to provide the highest degree of sound protection possible, all while keeping the project within budget.
We were also faced with sourcing flooring materials built to withstand the punishing conditions of a foundry, yet that offer an aesthetic appearance with low maintenance. We found polished concrete easily met these needs. The existing concrete was removed due to its age and to accommodate new underground plumbing, and we installed an ultra-durable tinted concrete floor to complement the overall color scheme throughout the building.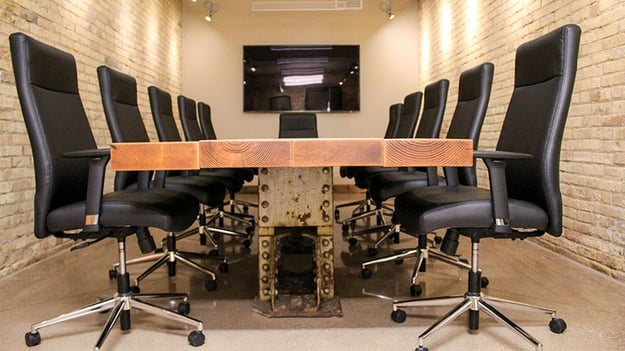 Recycled and salvaged materials from J.E. Hamilton Manufacturing in nearby Two Rivers, Wisconsin featured prominently in our design. When the Hamilton facility was demolished in 2015, Brandan Gauthier of Two Rivers preserved as much of the original materials as he could. A.C.E. Designer Todd Gorter worked closely with Gauthier who built the custom conference room table, pictured here, and provided the salvaged wood stair treads.
Old growth spruce flooring was used throughout the offices, mezzanine, and stairways. The conference room table was constructed with the same spruce boards, as well as portions of structural steel framework from the Hamilton facility. WAF contributed brass inlays and escutcheon covers, finished with a chemically-treated marbleized patina.
The overall expansion included 11 private offices, a drafting and engineering office, a conference room, two additional meeting rooms, a kitchenette, toilet facilities and upgrades to the existing entry and reception area. We also installed ADA compliant ramps, access routes, entrances, and bathroom facilities.
The final result is highly-functional modern office and meeting space that embraces the charm and heritage of the existing foundry building. Our team completed this 6,504-square-foot space in just eight months, continuing our relationship of five decades with Wisconsin Aluminum Foundry.