Here at A.C.E. Building Service, we appreciate every new client who comes to us. But the backbone of our company has been built from turning new clients into repeat customers. Our team loves it when we get to know your team so well that we understand your business and your goals — and can quickly jump in to get new construction projects or renovation jobs handled quickly and cost efficiently.
One of our longstanding relationships is with Country Visions Cooperative, a cooperative with a unique blend of operations headquartered in Reedsville, Wisconsin. Founded in 1923, today the cooperative has multiple locations throughout eastern Wisconsin to the UP of Michigan. Country Visions offers a unique blend of retail, fuel and agriculture related products and services including agronomy, propane, refined fuels, and grain divisions, with convenience stores, country stores and quick food restaurants.
Our previous work for Country Visions Cooperative's retail division has included store construction and rehabilitation projects in Manitowoc, Mishicot, and Valders. Each had its own goals and challenges running the gamut from budget and scheduling to disruption-minimizing logistics.
Reedsville Gets a Re-do
The Country Visions Cooperative convenience store at 525 Main Street in Reedsville had not been updated since 1998. The store is a go-to destination and valuable resource in that rural community. Our client wanted upgrades to both the store interior and the exterior.
This design-build project was fast-tracked to complete the work as expeditiously as possible and to minimize disruption for store customers and staff. The work, which began on September 14, 2017 was finished in nine months.
Although the overall project timeline was nine months, interior renovations were completed in just four months. The final course of asphalt, line marking, and landscaping was scheduled to accommodate weather conditions. This was the third convenience store renovation and fourth C-store project we have completed for Country Visions Cooperative in the last six years.
See our previous work for Country Visions Cooperative here >>
Retail Improvements and a New Exterior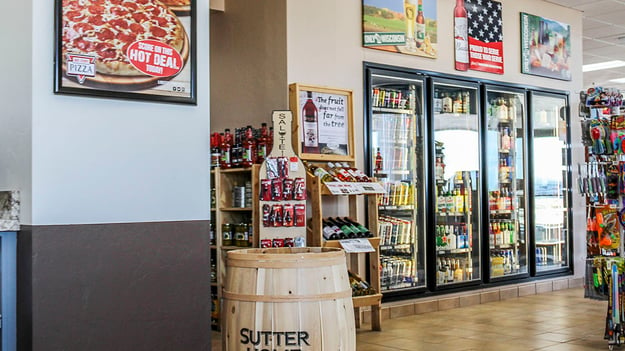 Inside the Reedsville store, the layout was modified. Elements such as point-of-sale displays, the coffee island, and other retail areas were reconfigured to enhance both customer experience and traffic flow. A walk-in beer cave and liquor display area were added to the space, as well as a seating area for the attached A&W Restaurant and Hot Stuff Pizza Restaurant operations.
Approximately 50 percent of the store — comprising almost 90 percent of what the customers see when they enter — was renovated. Included were new flooring, casework, point-of-sale counter, ceilings, and additional updates to store finishes.
The store's exterior — what customers see first — also needed attention. Because the fabric canopy awning was dated and not in alignment visually with other recent Country Visions store updates, it was removed and replaced with a band of Exterior Insulation Finish Systems [EIFS] to complement the existing EIFS elements of the attached A&W Restaurant. An entrance canopy structure was built over the front entrance to provide an inviting entrance to the store and align with other nearby store locations — an important renovation not only from a design standpoint, but also for effective visual branding.
Final renovations included resurfacing of the existing blacktop parking lot and updates to site drainage and landscaping.
Unique Features, Major Challenge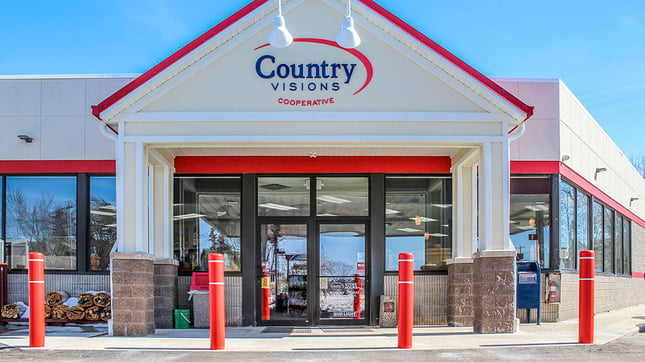 A new entrance canopy structure changed the exterior appearance of the building dramatically. Hand-painted murals painted on the former wall surfaces were salvaged and repurposed as framed art within the renovated store. A radial point-of-sale counter design increases flow in the store and allows clear views both within the store and to the fuel island.
Of course, the major challenge with this project was maintenance of operations throughout the renovation. The central idea is to revamp without disruption to usual convenience store business. Cleanliness and safety are also very important, so our team developed plans early-on in the process to ensure the site would remain tidy and safe for store staff, customers and construction workers.
The C-store was never shut down during the renovation, despite the work going on inside and outside of the building. We managed to keep the fuel islands operational with the exception of a few days. The project was broken into four phases — which actually meant that one project was comprised of four separate smaller projects. It was imperative that materials vendors and subcontractors were scheduled well in advance so as to not delay progress on any aspect of the project.
Another Successful Finish
Perhaps Chris Herzog, our Vice President of Business Development & Marketing put it best: "Working with Country Visions is awesome! We have developed a relationship where we can swiftly work through the design process, which carries through to the actual construction phase," he said. "We try to keep the same teams in place whenever possible to keep continuity from one project to the next. Our employees are able to react quickly to Country Visions' needs because we are familiar with their processes, procedures, and expectations."
Chris is spot on. This kind of relationship is indeed awesome — and very, very — how should we put it? Convenient!