We all need mentors and others to look up to. Fortunately, for A.C.E. Building Service, we have an entire network of mentors. Last week, a couple of our team members attended the Construction Leadership Network (CLN) conference in Tampa, Florida to practice win-win sharing. The CLN membership is comprised of a diverse group of entrepreneurs, commercial contractors and construction industry providers from throughout the U.S. and Canada.
Our membership in the CLN enables us to exchange information, share both successes and lessons learned, and form life-long relationships with like-minded construction professionals. The CLN was formed on the principal of bringing together top construction entrepreneurs to exchange ideas and share best practices to improve the construction industry and companies like ours. The mission is simple: Share…Learn…Build.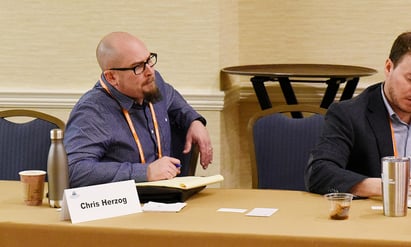 Project Development/Marketing Director Chris Herzog, pictured left, and Project Manager Stuart Johnson, pictured below, spent three days in Tampa at the annual CLN conference. And, although it was sunny and warm, they were inside learning about company differentiation, performance management, and how to find and develop the next generation of leadership.
Chris and Stuart attended focus groups on marketing, business development, and time management. "Our involvement in CLN is important for me personally because it gives me the opportunity to sharpen my personal skills and connect with like-minded construction professionals from around the U.S. and Canada. It is important that, as a company, A.C.E. Building Service remains on the leading edge of industry-related topics and trends. CLN is an excellent platform to help us continue to grow as an organization," notes Chris.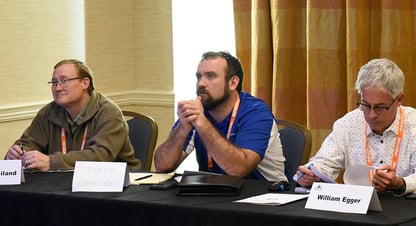 Our team also learned about creating a positive company culture and mastered seven actions for ensuring workplace safety. They met within peer groups and listened to panel experts talk about project management and C-Suite leadership. Stuart recalls his favorite event of the network meeting. "I thoroughly enjoyed the corporate culture presentation by Scott Truehl with Friede & Associates, another Wisconsin-based contractor. I am excited to start implementing a couple of their ideas and methods. I believe it is important to see how others run their businesses and compare them to your own. Maintaining the status quo leaves you in the dust."
Throughout the year, we are connected to the CLN membership by a web-based tool that enables us to communicate in forums, share documents, learn about each other's capabilities, and strengthen our bonds. We value our membership in the CLN because it makes us better contractors and we can use the information we learn in our businesses as well as on the jobsite.
We are already looking forward to next year's network meeting where we will have the opportunity to connect with our friends and mentors who share the same values and out-of-the-box thinking that we enjoy. For Chris, the valuable benefits of CLN membership include "the ability to openly share with others what works for you and them share with you in return is invaluable. Additionally, you can make some great friends along the way!"